Gain Greater Engineering and Product Life Cycle Perspectives
Significant leaps in product design are driven by the ability to look at today's challenges from different perspectives that bring together new ideas, experiences, and observed results. The latest products, technologies, and tools that makeup Ansys 2022 R2 enable experts to explore products and systems at a deep level under varying conditions to gain the insight needed to optimize their designs at every stage of the product development process. This insight is the catalyst for innovation and allows engineers to find answers where others cannot see past the challenges.
---
Ansys 2022 R2 is available for download from the Ansys Customer Portal (log-in required).
If you need assistance with downloading or installing Ansys 2022 R2, please contact us at (800) 832-3767 or info@ozeninc.com.
Learn more about Ansys 2022 R2 by viewing the information below or by joining one or more of the upcoming webinars.
---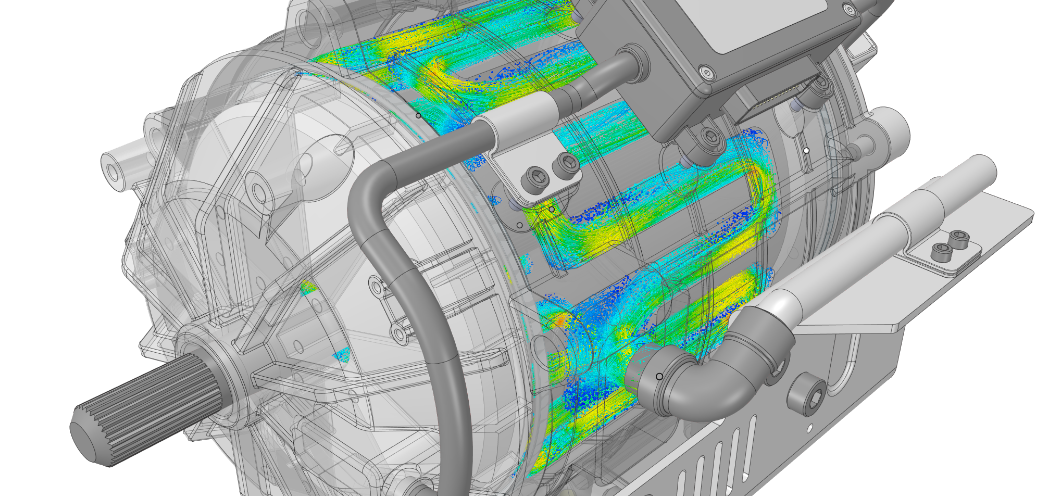 3D Design with Discovery
Ansys Discovery 2022 R2 continues to expand simulation capabilities and ease of use to unlock innovation and increase productivity throughout product development. Aerospace and defense, electronics, and automotive industries will develop their simulation reach with faster workflows for bolted connections, porous media modeling in Live Physics, and high-frequency electromagnetics within Discovery. More analysts benefit from Ansys Discovery's geometry preprocessing workflows, award-winning live physics, and interactive user experience.
Bolted structures: Modeling bolted assemblies are now incredibly easy. A new bolted connection tool detects mating bolt holes, matches sizing to industry standards, suppresses bolt geometry, and creates an associative physics connection that supports pre-tensioning between parts, all in an automated single-click workflow.
Flow control devices & antenna ideation: Porous media modeling is now supported in Discovery's Live Physics enabling fast, easy-to-use simulation of filters and other resistive flows. High-frequency electromagnetics modeling is added for initial concept evaluation and placement of basic antennas before a more detailed study in Ansys HFSS.
Electronics cooling: Revamped tools for Icepak model simplification are now a part of Discovery offering an accelerated workflow for electronics cooling applications. Automated small features and logo detection make it easy to speed up your simulations and reduce issues through model simplification.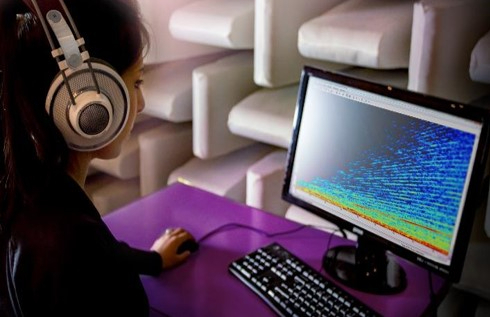 Acoustic Simulations
Ansys Sound has improved capabilities specifically for the automotive and aerospace industries. A new update in the Ansys Sound ASD for EV module allows users to export an entire Sound project, improving communication and hand-offs between manufacturers and suppliers to facilitate in-vehicle infotainment integration. In addition, the Ansys Sound VRS module has enhanced sound quality for helicopter flight training simulators, enabling new sound sources to be achieved at known control points. Finally, updates to the Sound SAS module provide new representations and calculations for Power Spectral Density (PSD) and linear RMS values.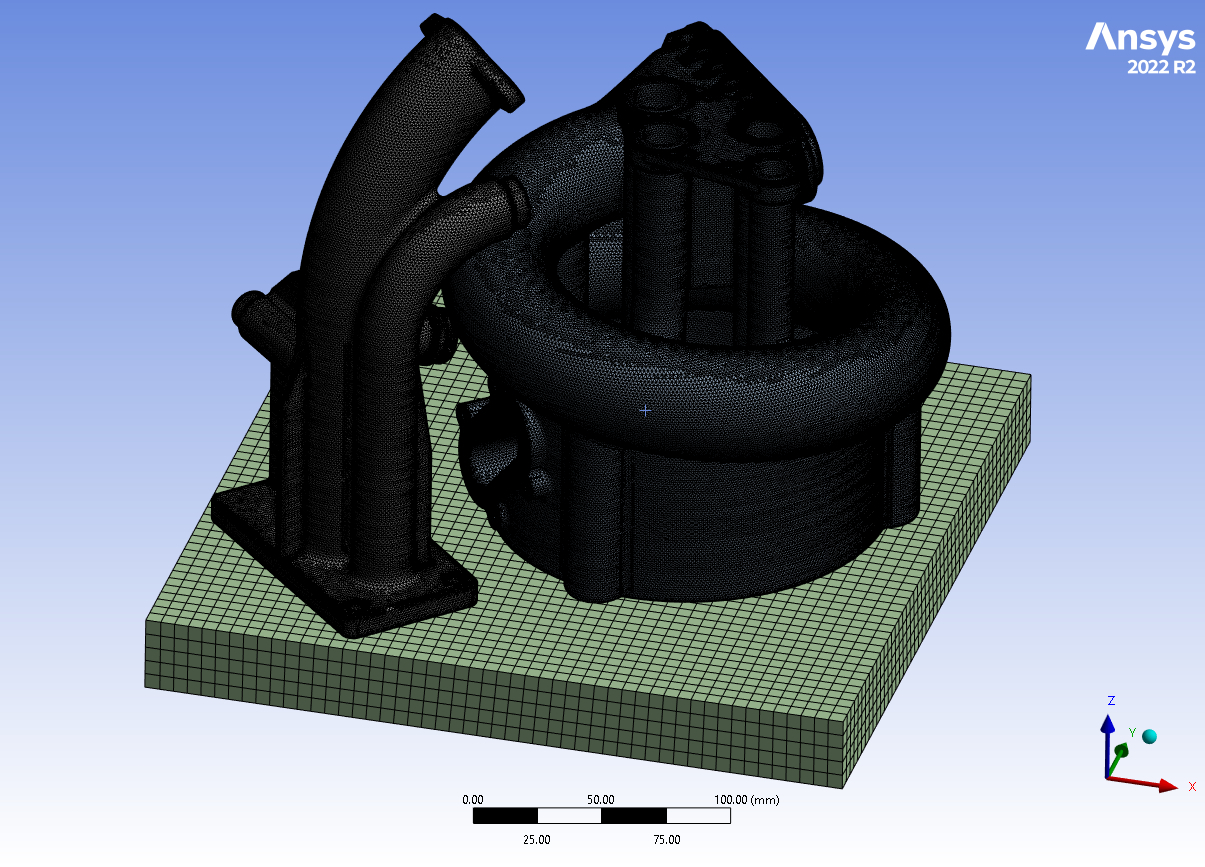 Additive Manufacturing
Ansys 2022 R2 expands toolsets for Additive Manufacturing Users, streamlining your workflows between design, simulation, and manufacturing. Every Ansys Mechanical User can now identify and minimize the risk for build errors and ensure high-quality parts through process simulation for Metal Laser Powder Bed Fusion (LPBF), Directed Energy Deposition (DED), and Metal Binder Jet (MBJ).
Workflow Improvements
Automatic Distortion Compensation is the ability to optimize a distortion compensated model within a simple automated workflow, which improves first-time print success.
Accuracy Enhancements
Consolidating additive technologies include Laser Power Bed Fusion (LPBF) scan pattern effects in Workbench Additive. With the consolidation of additive technologies, all users can rapidly increase simulation fidelity, capturing localized strain variations in each deposition layer.
Speed Performance
Introducing a Machine Learning (ML) model for predicting thermal strain can result in 10X time savings. Users can now easily explore the benefits of varying process setup parameters such as power, speed, and scan vector.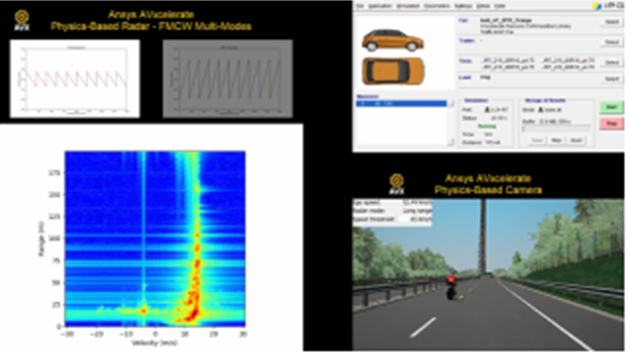 Autonomous Vehicle Simulation
With the driving simulation tool of your choice, you can quickly and easily verify and validate your ADAS/AV features, including sensor (radar, LiDAR, and camera) perception. And AVxcelerate can generate reliable, synthetic training data enriched with ground truth information for all sensor types; this data is essential for AI/ML-based perception algorithm training and validation.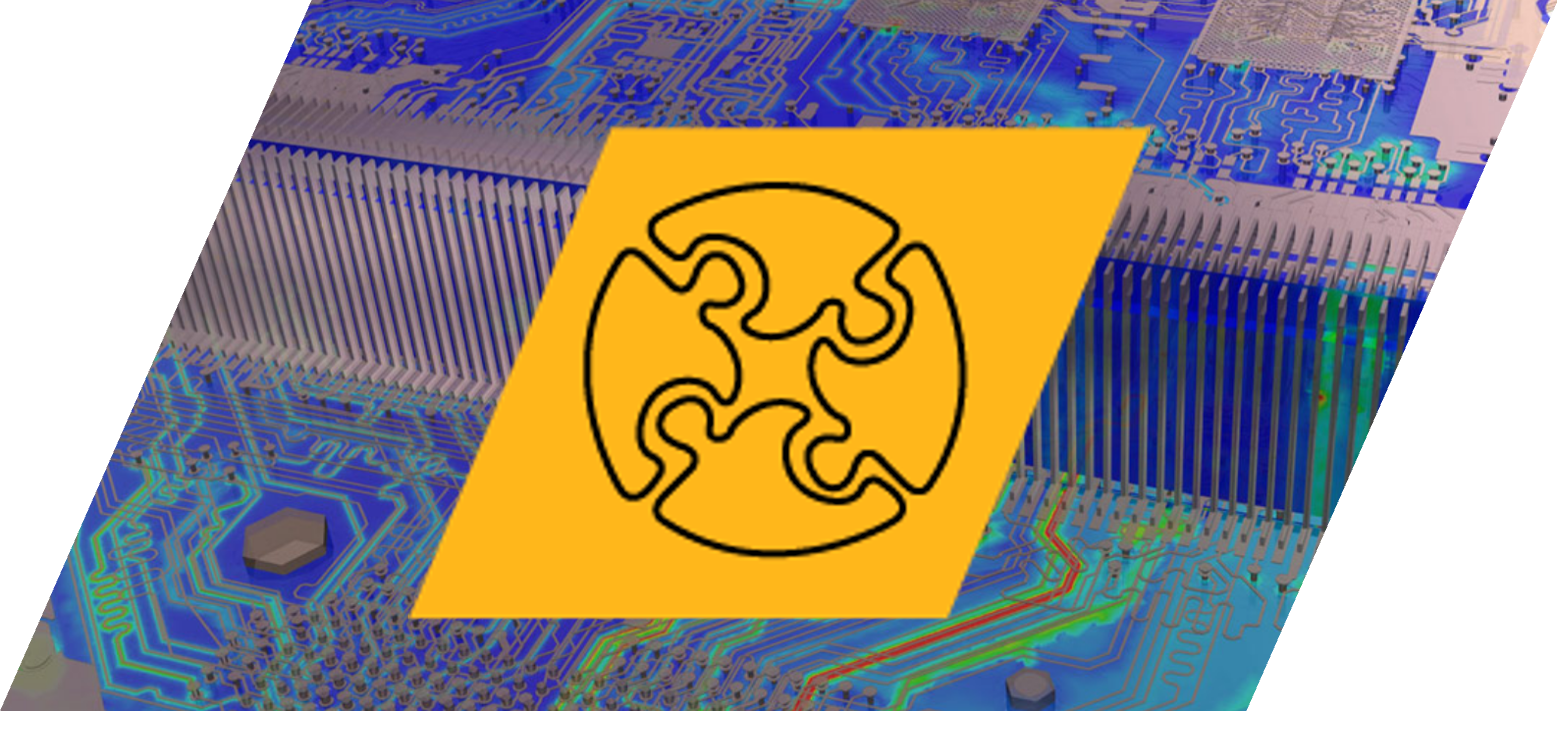 Connect
In 2022 R2, Ansys Connect product collection continues to increase engineering productivity, foster better collaboration, and accelerate innovation by creating a connected digital thread across the entire product development lifecycle.
Highlights include:
Ansys ModelCenter's Behavior Execution Engine (BEE) ensures that system design meets behavioral requirements early in the development lifecycle.
Ansys Minerva's new ECAD viewer streamlines PCB design and analysis workflows providing designers and engineers a common interface to better collaborate in the design and analysis stages of the lifecycle.
Ansys optiSLang Pro license option allows simulation analysts using Ansys Workbench and Ansys Electronics Desktop to run parametric design studies using state of the art AI/ML algorithms directly within their analysis.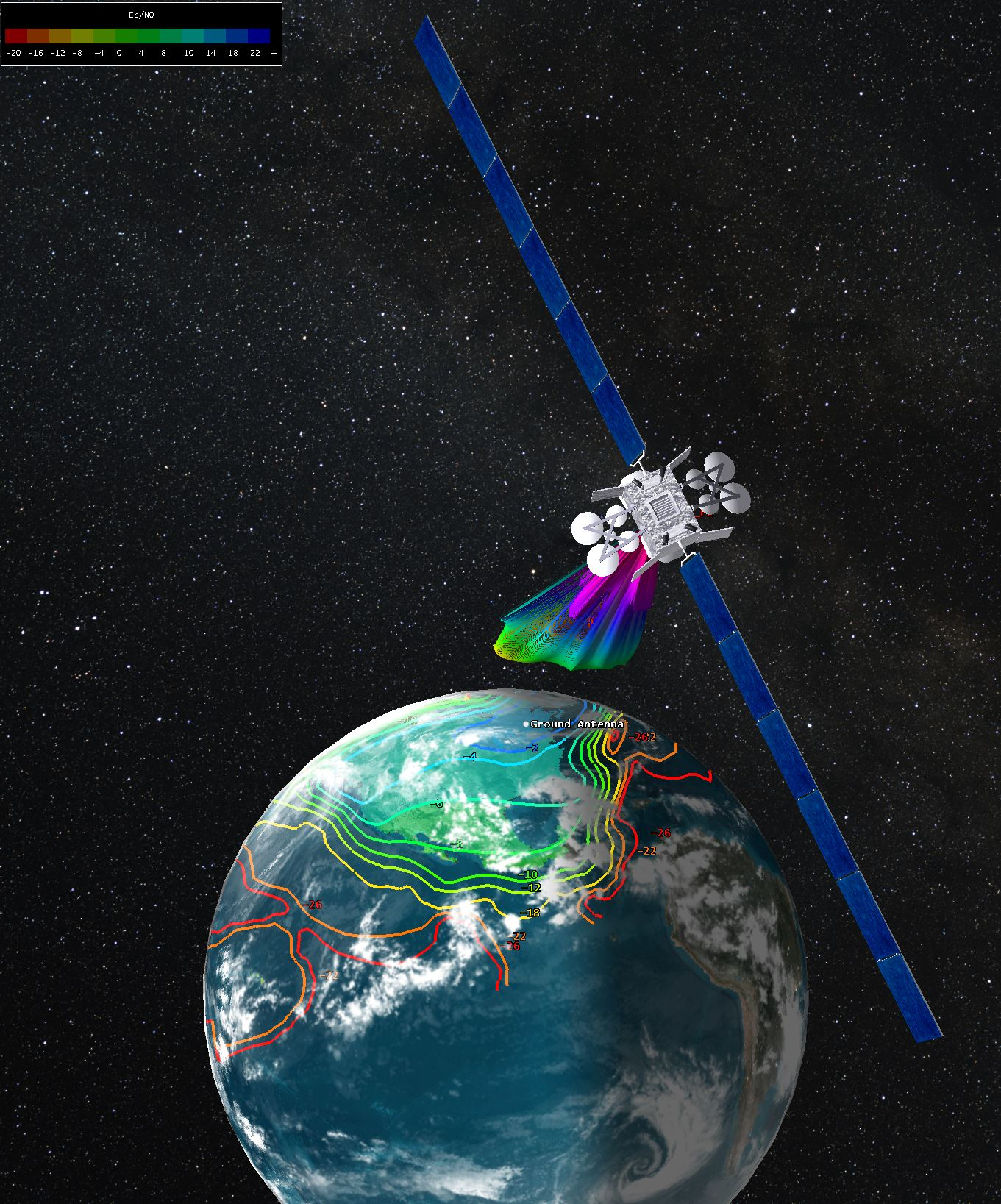 Digital Mission Engineering
The latest releases of STK and ODTK advance the extraordinary promise of digital mission engineering. The new features included in this release are designed to enable aerospace and defense organizations to digitally transform the entire product life cycle: design, analysis, and operations.
Large Constellation Improvement
As the commercial space segment continues to grow and the deployment of so-called "mega-constellations" looms, the need for modeling and simulation of space assets is more urgent than ever. With STK 2022 R2, you can include the Satellite Collection object within chained calculations, to better analyze and understand complex routing options for connecting ground-based assets.
RF Interference at Receiver Object
Designing and analyzing communications systems is complicated by the increasing congestion of the RF spectrum, making simulation of these systems and the RF environment essential. With STK 2022 R2, you can analyze the effects of a crowded RF environment on an individual receiver, making it quicker and easier to characterize interference and develop mitigation strategies.
EOIR Improvements
STK 2022 R2 improves the modeling capability for EOIR sensor simulations by providing enhanced central body property maps with overlapping texture maps. It enables you to model temperature, emissivity, and reflectance at higher fidelity. Adding the ability to model ground vehicles and ships in EOIR generates sensor-to-target metrics that incorporate these objects.
ODTK: 3D Moving Targets, Spice File Attitude, and CentralBody Gravity Estimate
ODTK 2022 R2 provides an introductory capability to estimate the trajectory of moving vehicles in a non-orbital environment on or near the surface of Earth (or another planetary body). It improves small-body mission planning and operations, and we've added native support of SPICE formatted attitude files for spacecraft attitude.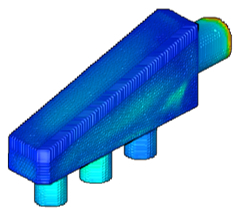 Digital Twin
With Ansys 2022 R2 release, we continue to provide our customers with the right technology for accurate & evolving Digital Twins, with Twin Builder Hybrid Analytics and its new Fusion Modeling capability. Hybrid Analytics combines ML-based analytics with the physics-based approach to create the best possible Digital Twins and increase the digital twin accuracy up to 98% level and more.
Powerful enhancements and features include:
Increased Digital Twins Prediction Accuracy: Fusion Modeling-new Twin Builder Hybrid Analytics capability
Greater accuracy of error prediction of Reduced-Order Model (ROM)
Enhanced Solver and Model Library and User Experience with the new Toshiba Accu-ROM™ Toolkit for easier design of Electric Power Steering (EPS) system
Automate Twin Builder in Python with pyAnsys
Several enhancements to the Modelica UI are available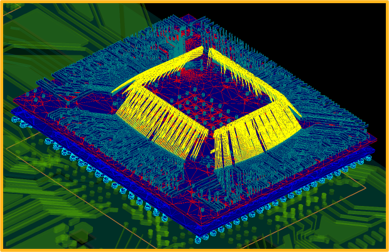 Electronics
With 2022 R2, Ansys Electronics solutions continue to bring best-in-class technologies to address PCB, 3D IC package, EMI/EMC, thermal, cabling, and electromechanical design challenges with significant advancements in 5G, autonomous and electrification simulation.
Ansys HFSS
Complex Flex PCBs are everywhere from consumer electronics, aerospace/defense, 5G/6G, Autonomy.
The new HFSS 3D Layout Flex PCB workflow ensures resounding success of any product or system using flex PCBs connecting systems and components. It helps user's setup flex PCB cable designs in HFSS Layout for rigorous 3D simulations including effects of bends and electromagnetic coupling
The capabilities of encrypted HFSS 3D layout components now extend to support IC design flows. Engineers working with foundry technology files for defining IC stackups will now be able to work seamlessly with these design inputs. This will greatly benefit 3D-IC and bespoke silicon design.
HFSS performance is going up another notch by reducing design and simulation turn around time. This will benefit all users of HFSS and especially those engineers who solve designs at large scale in size and/or complexity. Who is ready to do more faster and powerful simulations with the accuracy of HFSS?
Ansys Maxwell
High tech industry for portable devices will hugely benefit from the new best-in-class Multiphysics magnetic latching coupling workflow from Ansys Maxwell and Ansys Motion. This will benefit electrical and mechanical engineers designing magnetic latching devices and mechanisms. For e.g., detachable keyboards, pencil that attaches to tablets, wireless charging pads, latching wall-mount security camera, smart screen covers for phones, etc.
Ansys Maxwell now provides the most accurate ROM model for induction machine to be leveraged into Twin Builder for larger drive system simulation. This will hugely benefit the electrical machine designers and system designers who are evaluating the impact of component design into the entire drive system.
Skew modelling capability in Ansys Maxwell is touching a new paradigm benefiting both the system engineers and electric motor designers with two folder innovations. Firstly, the new ROM technique can be leveraged to extract an equivalent circuit of a 2D skew design benefiting the system engineer.
Secondly, the ability to parallelize the existing multi-slice technology via MPI will greatly increase the speed of entire 2D FEA simulation benefiting the electric motor designer.
Ansys SIwave
SIwave now provides the most accurate way in the industry to compute results in the transition region between DC to AC. The new and unique AC/DC blending algorithm enables unbeatable accuracy. This will hugely benefit the SIwave SYZ calculations in HFSS 3D layout
The powerful DDR Wizard in SIwave now comes with support for single IBIS AMI models. This will hugely benefit signal Integrity engineers designing package and PCB designs with DDR5 channels.
Talk about automation at its best. Now, SIwave can automatically generate HFSS Regions when a user is leveraging SIwave solver in HFSS 3D Layout. The regions are automatically created in areas of 3D activities (such as port locations and vias) and can be modified by the user as desired. This automation speeds up the process of creating HFSS regions by orders of magnitude.
Ansys Icepak & Mechanical in AEDT
Introducing a true Multiphysics workflow that allows users to take an Ansys HFSS/Maxwell/Q3D Extractor Design and automatically create either an Icepak design or a Mechanical Thermal design. This export incorporates all coupled excitations assigned, boundaries set, and a solution setup autogenerated to run too. All of this works with 3D Components in HFSS/Maxwell/Q3D Extractor in click of a button.
The new slider bar meshing capability enables enhanced automated mesh generation and refinement for both Icepak and Mechanical Thermal. This will benefit thermal designers and analysts by reducing the pre-processing effort in creating accurate meshes for thermal simulations in AEDT.
The availability of virtual mesh regions enables the ability to create mesh regions in Icepak in AEDT with offset from the objects of interest. It gives an ability to track the objects for parametric analysis. This enables enhanced abilities to run parametric and variation analysis in Icepak significantly improving the user experience.
Ansys Motor-CAD
The resolution of the unique synchronous machine lab model available in Motor-CAD can now be customized and defined by the user enabling high fidelity efficiency map, torque/speed curve and drive cycle calculations. This will benefit the engineers working on synchronous wound field machines in the automotive and electrification industries.
The new improvements in the NVH solution from Motor-CAD hugely benefits electric machine engineers who want to simulate the NVH behavior of electric machines concepts at the design stage.
New advances include the infinite cylinder acoustic model, A weighting options and export to Ansys sound enabling improved accuracy and calibration capability to the NVH analysis.
Enhancing the class leading automation capabilities of Motor-CAD is the introduction of RPC automation through Python which enables more control over automated Ansys Motor-CAD instances.
This allows instances to be distributed and controlled on remote machines and provides improved error handling when scripting.
Ansys EMA3D Cable
Announcing an integration between Ansys Discovery and EMA3D Cable. This integration benefits design engineers that are required to design for electromagnetic compatibility and allows them to use simulation early in product development.
With the introduction of Nexxim Transient Circuit Component Model Import, Electronics design teams can import component models from common formats to include in the transient circuit co-simulation. This means that Ansys EMA3D Cable can now co-simulate with three solvers. These include a full wave solver, a multiconductor transmission line solver, and a transient circuit solver. Setting up a simulation with all three components takes significantly less time than any other product and is easier to learn.
Electromagnetic Compatibility (EMC) engineers now have the ability to compare full device or full vehicle performance against standard EMC metrics with the new Full Vehicle EMC Limit Curve Comparison capability. This feature allows for the rapid specification of limit curves to quickly see how the simulation results compare to the requirements.
Ansys EMA3D Charge
Announcing an integration between Ansys Discovery and EMA3D charge adding a critical product development workflow for EMC engineers across industries. Users will be able to leverage industry leading CAD interface of Ansys Discovery and will benefit in the preparation of full spacecraft platforms, full electronics boards, and components.
EMA3D Charge now has specific animation probes to monitor Air Conductivity and Spatial Charge when non-linear backgrounds are used such as in plasma physics. These new probes will help EMC Engineers and PCB designers target where the air is conductive across their models.
Space EMC Engineers can now simulate individual charged particle interactions with ambient timevarying electromagnetic fields, including the simulation of particle collisions with the new Particle-incell (PIC) simulations for space plasma environments in Ansys EMA3D Charge. This will benefit full platform spacecraft charging modeling in LEO and Polar orbits.
Ansys Nuhertz FilterSolutions
The new enhanced discrete component optimization for RF filter design flow involving Ansys Nuhertz FilterSolutions, HFSS and Modelithics makes it possible to synthesize lumped RF filter designs and their layouts and optimize standard value surface mount components and their interconnects. This flow benefits RF designers who are tasked with creating RF filters using lumped surface mount components on circuit boards and substrates.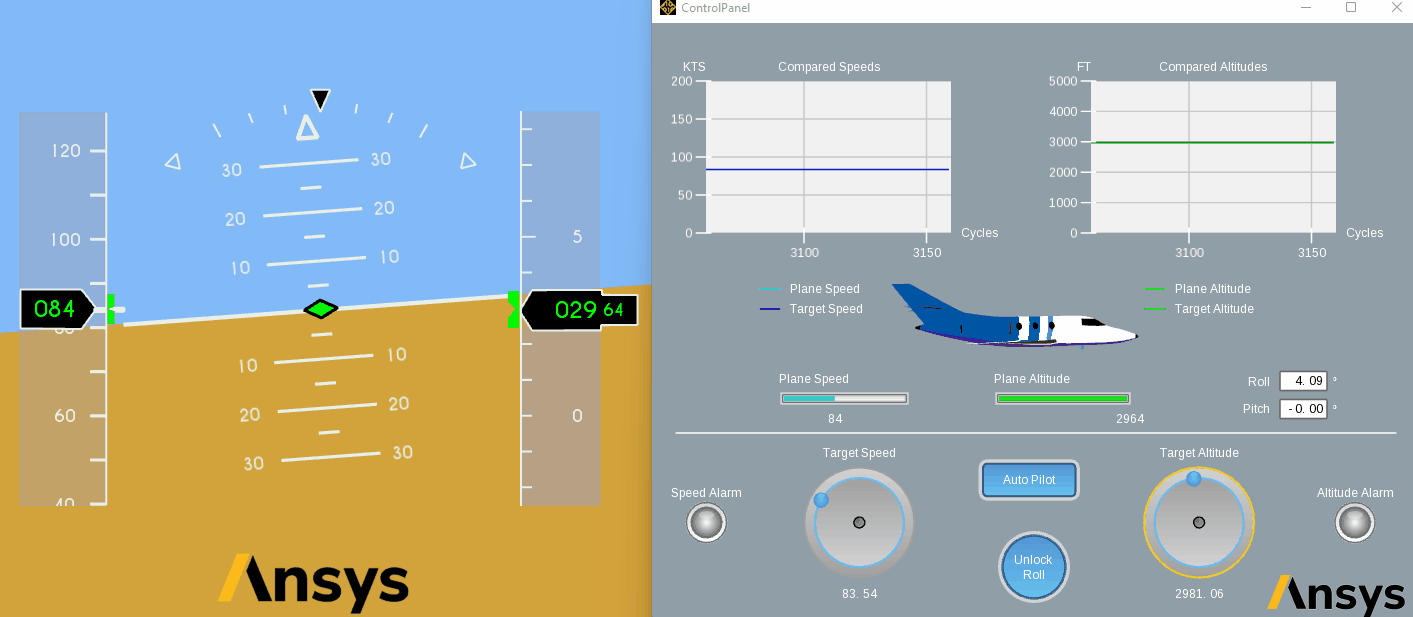 Embedded Software
Ansys 2022 R2 puts a particular focus on safe and secure code generation of embedded control and HMI software, facilitating compliance with international standards for security (SEI CERT C), safety, and interoperability in A&D (DO-178C, ARINC 661, Khronos glTF™) and Automotive (AUTOSAR). Improvements to the Coverage Analysis Assistant further speed-up complex and time-consuming model and code coverage analysis activities.
Improvements include:
CERT C / Safe and Secure Code Generation
Generated code compliance with the SEI CERT C security coding Standard
Demonstrates that no security risks are associated to the SCADE generated code usage
Coverage Analysis Assistant Improvements
Speed-up complex and time-consuming coverage analysis activities
Detect and report uncoverable parts of the model
Generate justifications or test sequences for uncovered points
3D Rendering for Embedded Displays
Import and render Kronos standard glTFTM 3D assets in SCADE Display
Allow embedded displays designers to include breakthrough rendering effects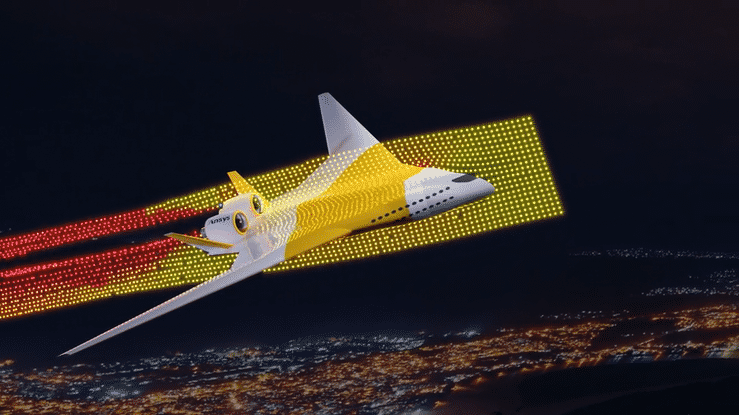 Fluids
Ansys 2022 R2 features major enhancements in the Fluids portfolio for more efficient and sustainable CFD simulations.
Substantially reduce simulation solve time and power consumption using the multi-GPU solver in Fluent with added support for transient flows including scale resolving simulation (SRS), non-confromal interfaces (NCI), and moving reference frames (MRF)
Automate processes, build custom workflows and craft customized solutions with PyFluent, opensource access to Fluent via Python.
Simulate production and consumption of hydrogen with a new proton exchange membrane (PEM) electrolysis model and validated hydrogen combustion models.
TurboGrid's automated hybrid meshing technology now supports complex blade tips, end-wall contouring and large blade root blends.
Model cavitation, phase change and leakage modeling in liquid pump and valve simulations using Forte.
Performance enhancements using Rocky's particle assembly feature.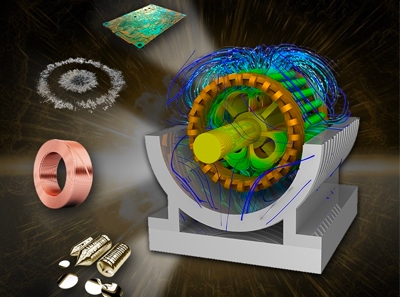 Materials with Granta
2022 R2 sees Ansys Granta's products build on the data, tool, and integration offering to help engineers factor in material sustainability earlier in the design process – helping reduce product development time and make more sustainable material choices.
Users of Ansys Mechanical can use the new Ansys Material Calibration app available in Granta MI™ to generate accurate material models from experimental data, to help drive simulation accuracy with materials across the simulation team.
With material now exportable from any Ansys Granta product to any Ansys flagship solver and a supercharged version of Granta MI Pro, we're making it easier to take the first step to achieving Material Intelligence.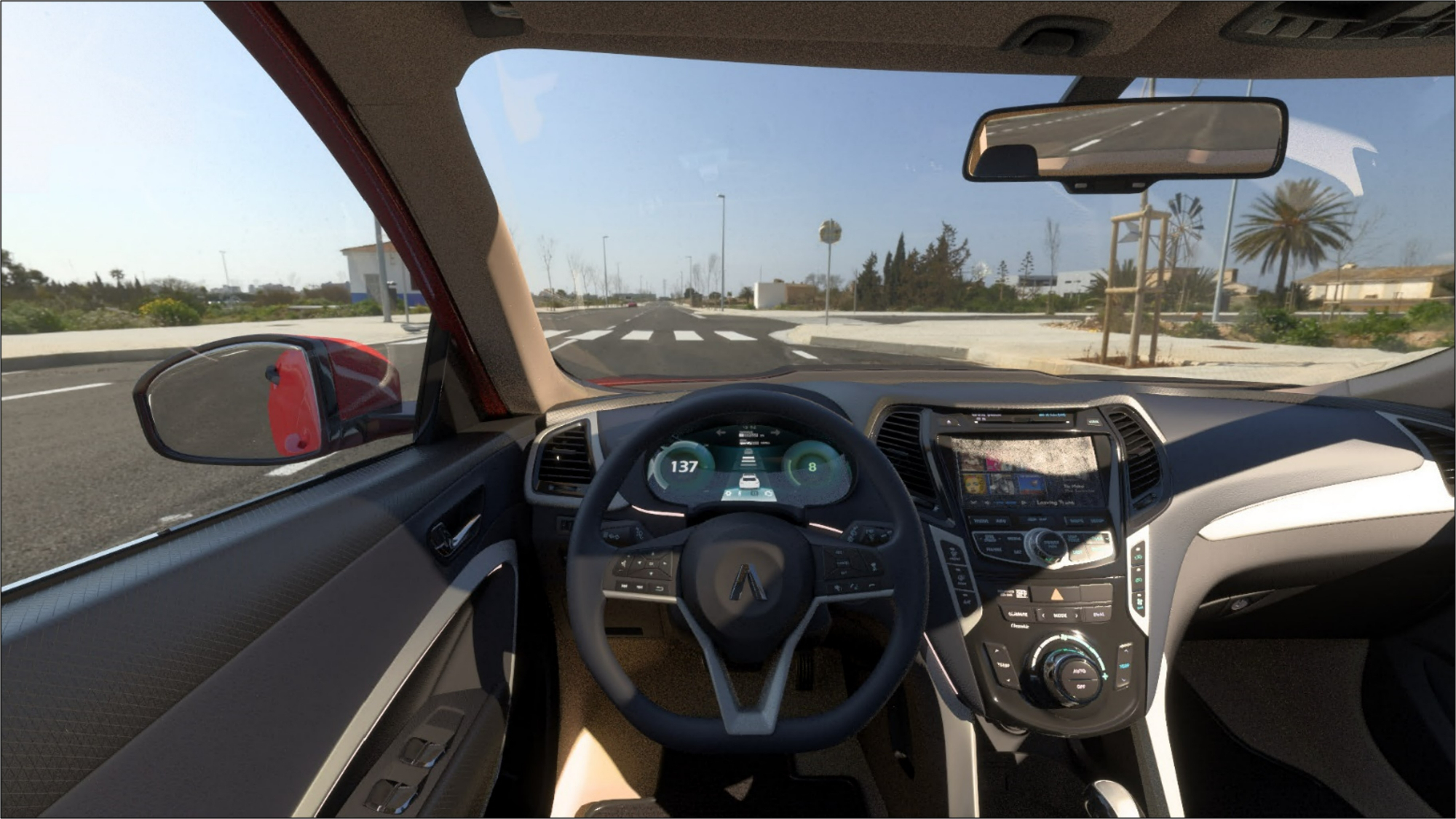 Optics
Ansys Speos continues to push the innovation envelope to deliver accurate, high-performance simulation capabilities for optics designers. The 2022R2 release provides powerful capabilities that speed time to result, improve simulation accuracy, and expand interoperability with other Ansys products.
The 2022 R2 release of Ansys Lumerical introduces a series of powerful new capabilities to extend usability, accuracy, performance, and functionality across its family of products. These new features enhance modeling capabilities for electro-optical devices, from SPADs to microLEDs and lasers, and empower photonic integrated circuit (PIC) designer with new capabilities for process-aware design and electronic-photonic design automation (EPDA). Several improvements for integrated flows with Zemax and Speos further streamline modeling of nanoscale to macroscale optics for augmented reality, metalens design, and imaging systems.
Ansys Zemax OpticStudio provides everything a customer needs to simulate, optimize, and tolerate optical designs. Customers can design high-confidence virtual prototypes that they can thoroughly test before manufacturing. Customers can improve their optics workflow by spending more time validating and adding quality to their designs. Automate workflows with our API. OpticStudio STAR (Enterprise edition only) quickly analyzes the impacts of structural and thermal loads.
Ansys Zemax OpticsBuilder supports a more efficient optical design workflow across engineering teams. Shorten time-to-build for optical designs with fast, flawless conversion into CAD. Easily share files in a standard format across optical and mechanical engineering teams.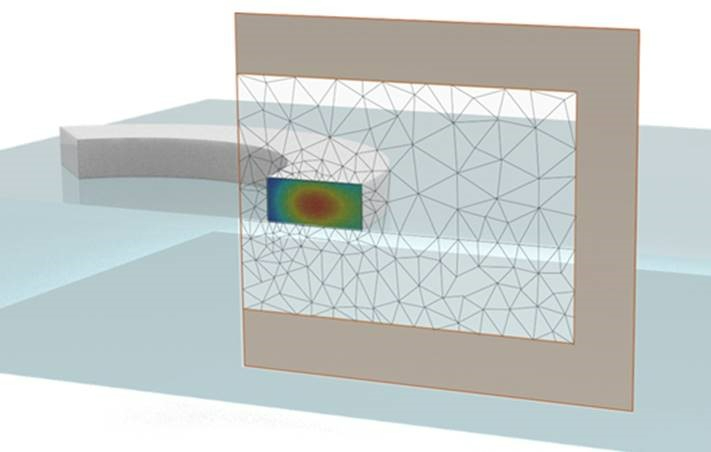 Photonics
The 2022 R2 release of Ansys Lumerical introduces a series of powerful new capabilities to extend usability, accuracy, performance, and functionality across its family of products.
Developments to optical solver cores and HPC performances
New workflows for modeling a variety of sub-wavelength structures in Lumerical optical solvers and then optimizing the macro-scale design in Zemax to see how it looks to a human using Speos
Improved simulation workflows for EAMs and LEDs with multi-quantum wells, as well as for single-photon avalanche photodetectors
Streamlined design of photonic devices and circuits by using the new capabilities in our process-aware custom component design flow and EPDA flow
Advancements to INTERCONNECT and Photonic Verilog-A models generated by CML Compiler.
New qINTERCONNECT solver for modeling quantum behavior in photonic integrated circuits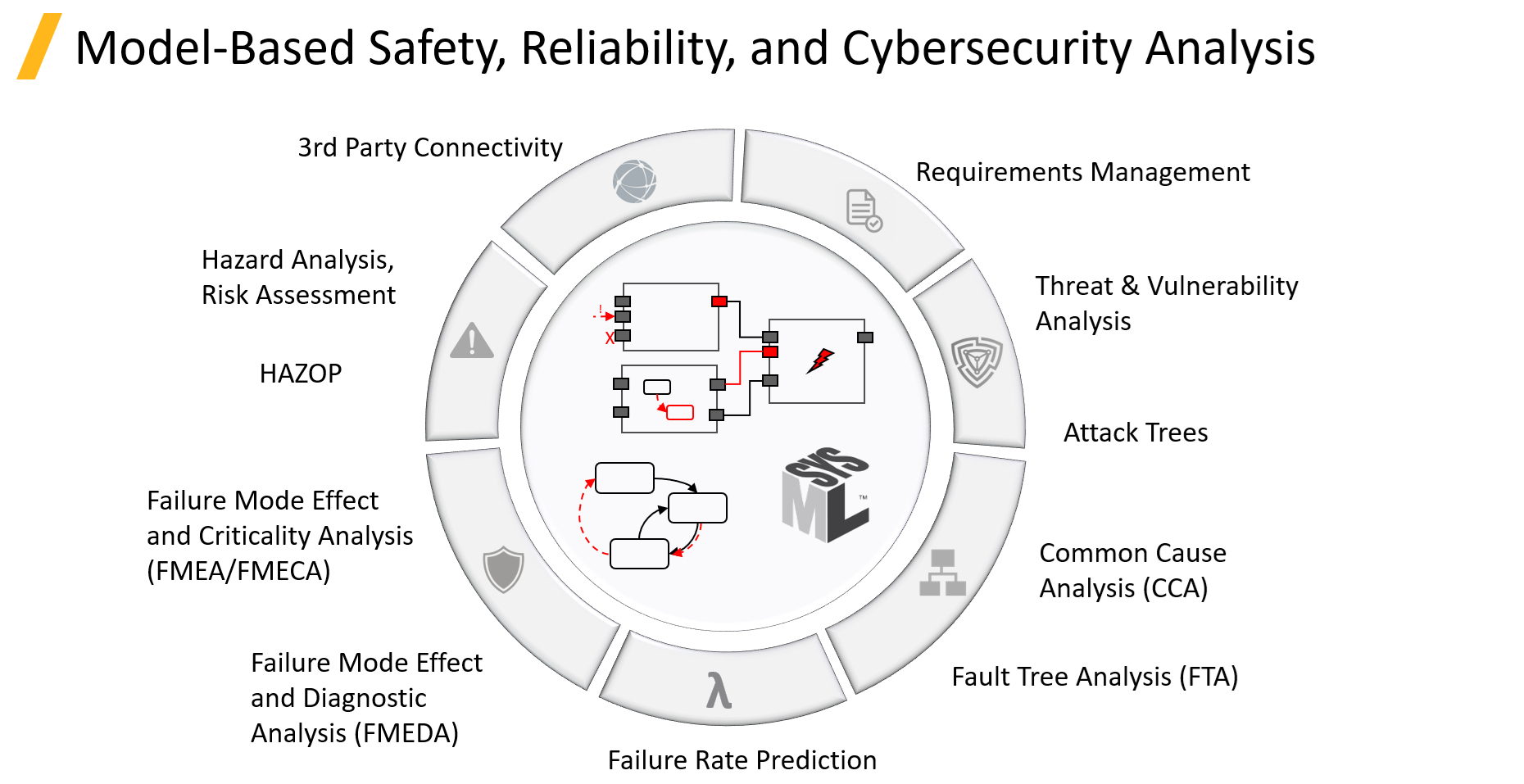 Safety Analysis
In Ansys 2022 R2, Ansys Medini analyze provides new features that further extend and complete the efficient holistic application of safety, reliability, and cybersecurity analysis methods in a high-performance manner.
Our A&D customers benefit from improved quantitative fault tree analysis at the highest performance level. Furthermore, with Ansys 2022 R2 we offer componentized fault-tree logic embedded in design models with Component Fault Trees. This significantly reduces the effort of defining fault-trees for huge modular designs while at the same time increasing consistency and quality of such fault trees.
In the Automotive domain, we have extended the FMEA capabilities to support hybrid-failure nets as required by the VDA-AIAG FMEA standard. The integration with design models has also been extended to increase reusability in the design process.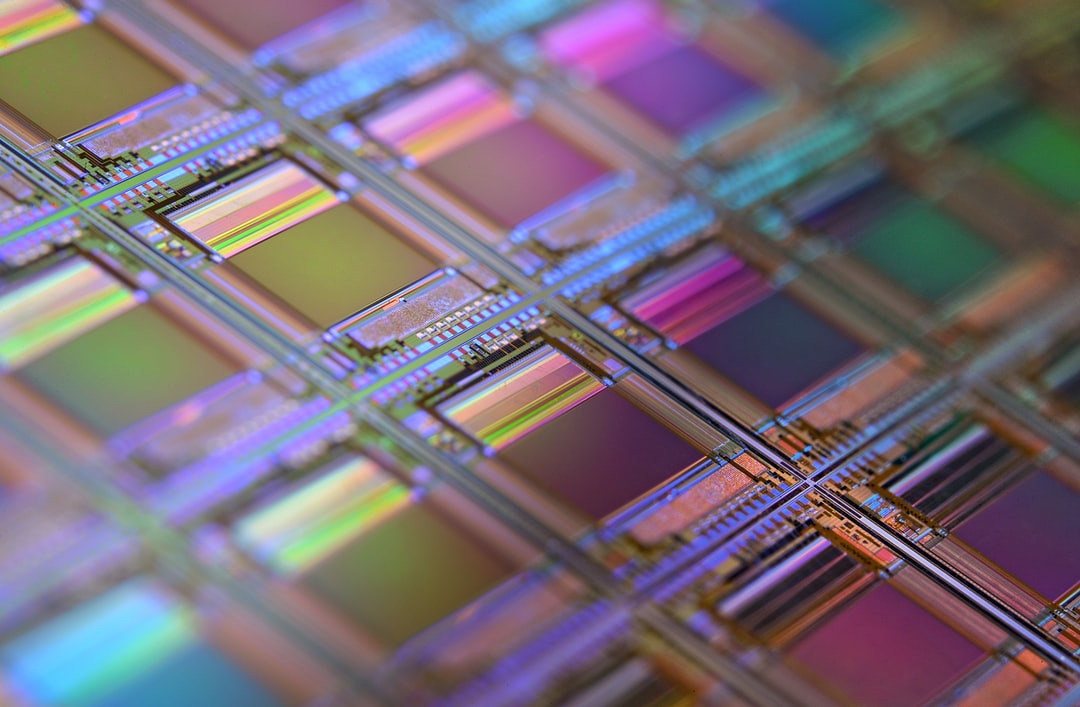 Semiconductor
The semiconductor product line delivers significant advances in performance and capacity for advanced node chips, introducing new features for multi-die design's thermal and Multiphysics analysis.
Enhanced thermal integrity flow for sub-5nm and 3D-IC designs, including new hierarchical Chip Thermal Models (CTM)
SigmaDVD technology delivers new power integrity capabilities in RedHawk-SC, accurately analyzing dynamic voltage drop (DVD) effects in leading-edge designs
Reduced Order Models (ROM) enable a high-capacity analysis of chip and package systems while maintaining result accuracy
Incremental fixing of IR-drop with the new IR-ECO flow that integrates RedHawk-SC signoff analysis with popular implementation tools for physical ECOs
Introducing PathFinder-SC, built on the cloud-optimized SeaScape platform, delivers 4x speed and 3x memory reduction essential for electrostatic discharge (ESD) analysis
Achieve up to 2x speed with RaptorX distributed processing, essential for on-die electromagnetic analyses of high-speed signals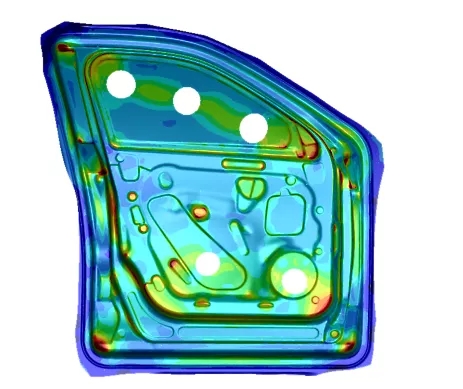 Structures
In 2022 R2, the Ansys Structures product line continues to improve integrations between products, materials databases, and advanced workflows with co-simulation capabilities and new APIs. In this release, significant updates include:
Access multipurpose workflows quickly and efficiently with a new intuitively designed and customizable toolbar for Ansys Mechanical. The toolbar includes 14 add-ons, including the NVH Toolkit, DesignLife Fatigue, and Bolt Tools.
New functionality within Ansys Sherlock enables users to export PCB thermal results from Ansys Icepak and structural results from Ansys LS-DYNA into Sherlock for component lifetime predictions, enabling a more advanced closed-loop reliability workflow.
An automated co-simulation workflow with Ansys Motion and Ansys Maxwell solves the details of electromagnetic fields and kinematics associated with moving magnets for advanced magnetic latching capabilities.