What is a digital twin?
The Internet of Things (IoT) has created the potential for the simulation of a product or process to be tied through the Internet to sensors capturing its data and to actuators controlling its operation; the result is a digital twin. Implementing digital twins using Ansys Twin Builder has been shown to improve product performance by 25 percent and reduce maintenance costs by 10 to 20 percent.
A digital twin is a real-time, virtual copy of an actual operating machine that provides insight into individual product performance and maintenance. Sensors on the machine relay data — temperature, pressure, flow rate, voltage, loading, etc. — to the digital twin, and the twin evolves in step with the machines working environment. By using simulation in conjunction with the IoT, a digital twin can be used to monitor real-time prescriptive analytics and test predictive maintenance to optimize asset performance. Digital twins can also analyze the performance of products in real-world operating conditions and make confident predictions about future performance to improve product operation and productivity, and to reduce the cost and risk of unplanned downtime. You can also use the collected data to improve the design of next-generation products.
Build
To build your system easily and quickly, Twin Builder combines the power of a multidomain systems modeler with extensive 0D application-specific libraries, 3D physics solvers and reduced-order model (ROM) capabilities. When combined with embedded software development tools, Twin Builder allows you to reuse existing components and quickly create a systems model of your product.
Validate
To validate your system and ensure expected performance, Twin Builder combines multidomain systems simulation capabilities with rapid human-machine interface (HMI) prototyping, systems optimization and XiL validation tools.
Deploy
To connect your twin to test or real-time data, Twin Builder easily integrates with internet of things (IoT) platforms and contains runtime deployment options, allowing you to perform predictive maintenance on your physical product. It is the only product that offers a packaged approach for your digital twin strategy.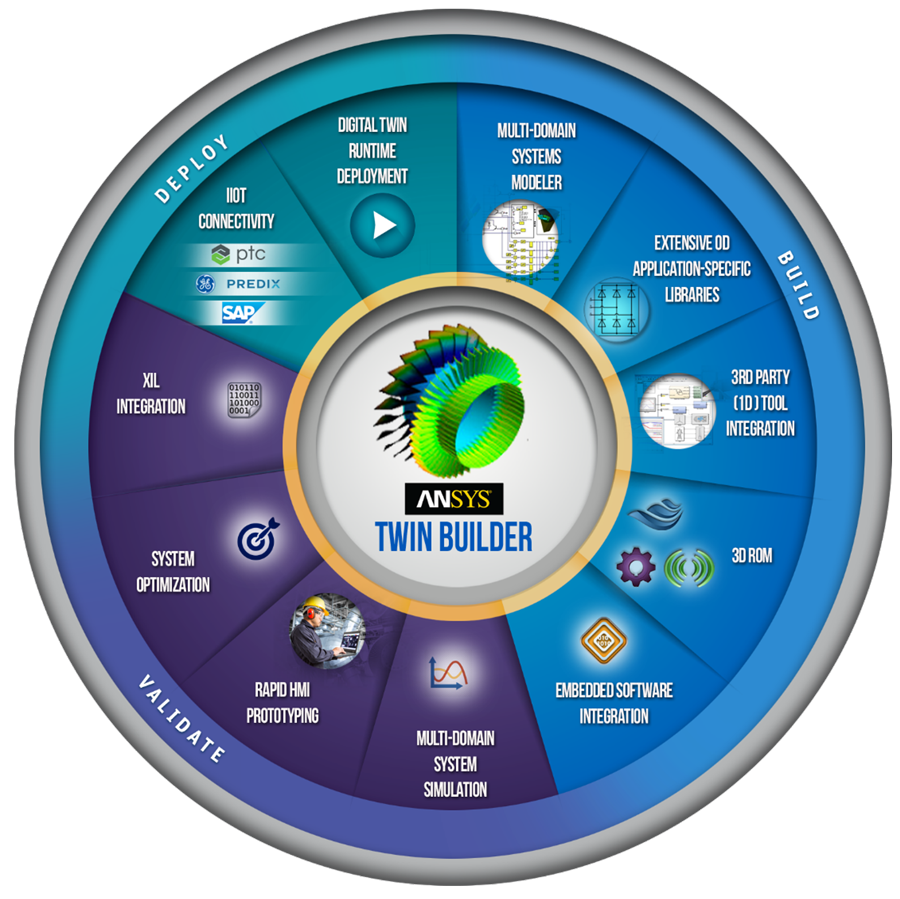 Ozen Engineering Digital Twin Prototypes
Contact us to learn more or to schedule a demonstration.