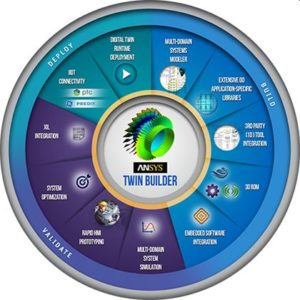 WHAT IS A DIGITAL TWIN?
The Internet of Things (IoT) has created the potential for the simulation of a product or process to be tied through the Internet to sensors capturing its data and to actuators controlling its operation; the result is a digital twin. Implementing digital twins using Ansys Twin Builder has been shown to improve product performance by 25 percent and reduce maintenance costs by 10 to 20 percent.
A digital twin is a real-time, virtual copy of an actual operating machine that provides insight into individual product performance and maintenance. Sensors on the machine relay data — temperature, pressure, flow rate, voltage, loading, etc. — to the digital twin, and the twin evolves in step with the machines working environment. By using simulation in conjunction with the IoT, a digital twin can be used to monitor real-time prescriptive analytics and test predictive maintenance to optimize asset performance. Digital twins can also analyze the performance of products in real-world operating conditions and make confident predictions about future performance to improve product operation and productivity, and to reduce the cost and risk of unplanned downtime. You can also use the collected data to improve the design of next-generation products.
DIGITAL TWIN WITH PTC
Digital twins are emerging as the best way for enterprises to compound value from digital transformation initiatives. For the industrial enterprise, digital twin use cases are primarily being adopted across engineering, operations, and service – driving significant business value and laying the groundwork for digital transformation across the enterprise. Learn how developing a digital twin strategy can help you harness the convergence of the digital and physical worlds.
Digital Twin: A Primer for Industrial Enterprises
As industrial enterprises generate increasing volumes of data about the physical world, they're mapping this data back to the IT systems that define their products, processes, and people to enhance the digital thread. Digital twins are quickly proving to be a key strategic accelerator for digital transformation, unlocking the value within the data created by the Industrial Internet of Things (IIoT) using PTC Thingworx and Kepware and augmented reality (AR) using PTC Vuforia.
Thingworx is an IIOT platform that is used to Manage the development lifecycle of your industrial IoT application in one centralized place.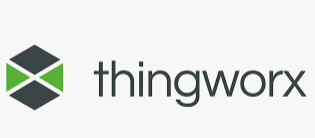 Industrial companies face pressing challenges that require IIoT solutions. To address a wide range of manufacturing, service, and engineering use cases, PTC has spent years innovating the ThingWorx IIoT platform.
From remote monitoring and service to workforce efficiency and asset optimization, ThingWorx solves common challenges across different industries.
Because building IIoT solutions is often cited as a pain point,  ThingWorx is designed to reduce these barriers. Cruise from pilots to enterprise-scale solutions, using pre-built applications and developer tools.
With PTC ThingWorx, you can achieve the following:
Maximize Revenue
Accelerate Innovation
Reduce Costs
Improve Quality
Maximize Flexibility
To read more, CLICK HERE.
Kepware is a software development business of PTC Inc. Kepware provides a portfolio of award-winning software solutions that help businesses connect diverse automation devices and software applications and enable the Industrial Internet of Things.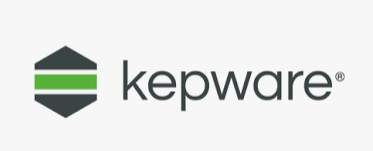 From plant floor to wellsite to windfarm, Kepware serves a wide range of customers in a variety of vertical markets including Manufacturing, Oil & Gas, Building Automation, Power & Utilities, and more. Established in 1995 and now distributed in more than 100 countries, Kepware's software solutions help thousands of businesses improve operations and decision making.
Vuforia provides the fastest, easiest and most advanced AR content development solutions to help industrial enterprise customers address workforce challenges and meet business goals.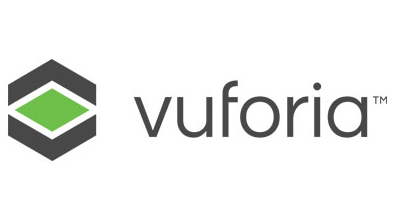 Vuforia's Augmented Reality solutions have numerous practical applications—where to start depends on understanding where you'll get the fastest, most meaningful ROI. These use cases stand out as offering easy adoption, clear returns, tangible benefits, and a roadmap to scale up.
OZEN ENGINEERING DIGITAL TWIN PROTOTYPES
Contact us to learn more or to schedule a demonstration.
Check out a recent Ansys Blog Post on "How to Create a Digital Twin" where Ozen Engineering is featured.
This spiral model demonstrates the Digital Twin concept for a Multiphysics problem. The coil is made of a bimetal sheet with two layers of metal with different coefficients of thermal expansions, which makes it rotate when heated. The coil is heated by Joule heating, and the temperature and rotational displacement (angle) are measured after a set amount of time. The digital twin is dynamically interactive; meaning as the current provided to the spiral is modified, the digital twin results will be automatically updated based on the new current. Similar digital twins could be used for any application considering the effects Joule heating, for example, viscous clutches or HVAC control units.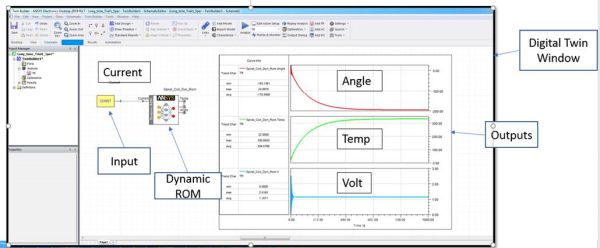 A solenoid coil is excited with current by an external power supply and replicated in Twin Builder using Maxwell simulation. The simulation data is then exported and used to train the dynamic ROM that is built in Ansys Twin Builder. The main application for this Digital Twin is to validate and measure data of the twin in case it is inconvenient to measure the data on site.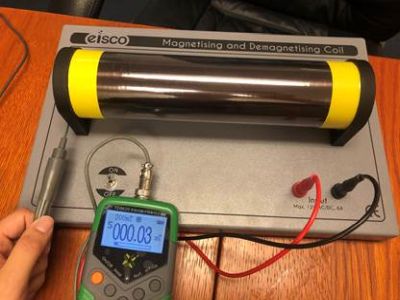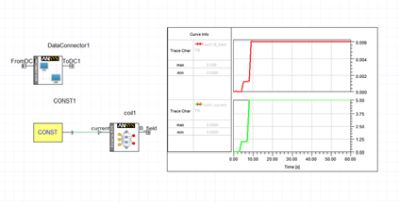 The setup is composed of a wind tunnel which is an airfoil in a cylinder and an electric fan which blows air at the airfoil. The air will create a lift force which is measured using an accurate scale (see Fig.). The amount of lift force will vary by changing the fan speed using the input voltage (provided by a power supply). A digital twin has been created using CFD and ROM which can predict the lift force. The digital twin has been calibrated as well. This digital twin technology could be used in Aerospace Industry in the operation of airplanes/drones with multiple airfoils and flaps. Another application would be active aerodynamic parts such as spoilers in Automotive Industry.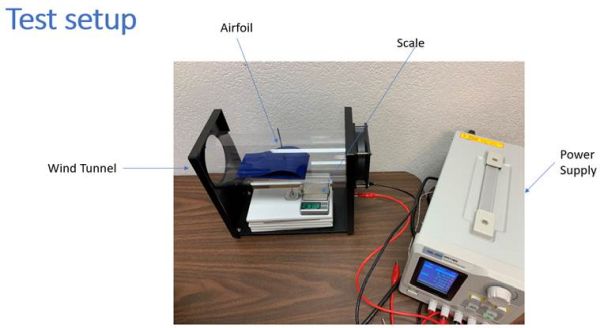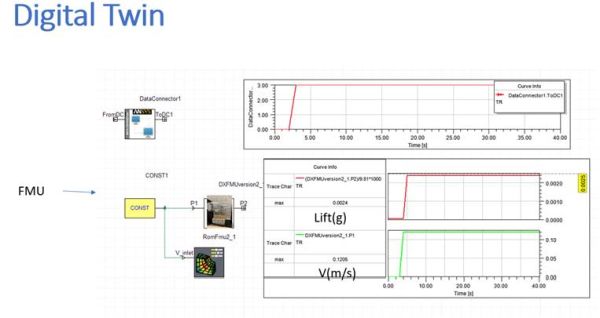 Space Separation (Filtration) is an important element in 5G, enabled by antenna arrays. Ansys HFSS/SI-Wave enables complex array design with its beamforming network. Real time beam steering is required by Network Infrastructure (Towers) and Tracking Radars. Real Time Channel State Information (CSI) and other information configure user space/frequency/time resource allocation Digital Twin (DT) allows prediction of network congestion and/or failure. A demo may show how digital twins may direct antenna beam towards moving users (individual or Vehicles). Same concept applies for RADARS in ITS V2X in Smart City applications.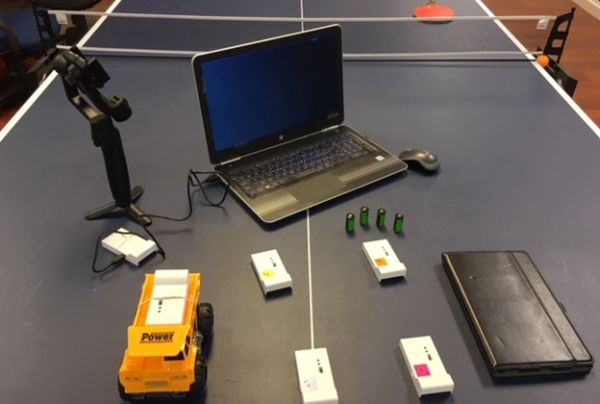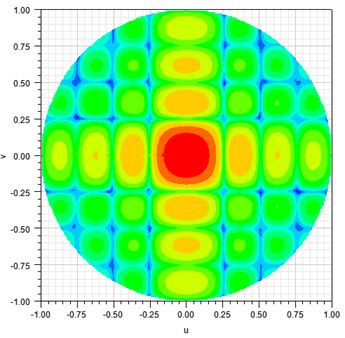 The famous Golden Gate Bridge is used as a model to demonstrate ANSYS Digital Twin capabilities. A Fluent CFD model, with Poly-Hexcore mesh, is used to analyze the effect of wind direction and speed effect on the bridge to obtain the pressure applied on the bridge structure. A topological ACT is used to model the topography of the bridge surrounding. Using Python script, the bridge digital twin reads live data available online with the wind speed and direction as the main input and provides the corresponding pressure on the bridge towers. Using the ROM viewer, we see the results on the model for any selected time.