What is a digital twin?
The Internet of Things (IoT) has created the potential for the simulation of a product or process to be tied through the Internet to sensors capturing its data and to actuators controlling its operation; the result is a digital twin. Implementing digital twins using Ansys Twin Builder has been shown to improve product performance by 25 percent and reduce maintenance costs by 10 to 20 percent.
A digital twin is a real-time, virtual copy of an actual operating machine that provides insight into individual product performance and maintenance. Sensors on the machine relay data — temperature, pressure, flow rate, voltage, loading, etc. — to the digital twin, and the twin evolves in step with the machines working environment. By using simulation in conjunction with the IoT, a digital twin can be used to monitor real-time prescriptive analytics and test predictive maintenance to optimize asset performance. Digital twins can also analyze the performance of products in real-world operating conditions and make confident predictions about future performance to improve product operation and productivity, and to reduce the cost and risk of unplanned downtime. You can also use the collected data to improve the design of next-generation products.
For more information about the Internet Of Things (IOT), CLICK HERE
Build
To build your system easily and quickly, Twin Builder combines the power of a multidomain systems modeler with extensive 0D application-specific libraries, 3D physics solvers and reduced-order model (ROM) capabilities. When combined with embedded software development tools, Twin Builder allows you to reuse existing components and quickly create a systems model of your product.
Validate
To validate your system and ensure expected performance, Twin Builder combines multidomain systems simulation capabilities with rapid human-machine interface (HMI) prototyping, systems optimization and XiL validation tools.
Deploy
To connect your twin to test or real-time data, Twin Builder easily integrates with internet of things (IoT) platforms and contains runtime deployment options, allowing you to perform predictive maintenance on your physical product. It is the only product that offers a packaged approach for your digital twin strategy.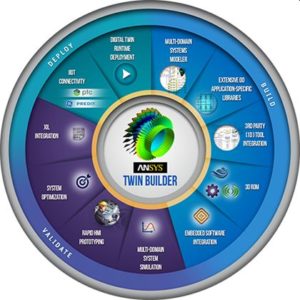 Digital Twin with PTC
Digital twins are emerging as the best way for enterprises to compound value from digital transformation initiatives. For the industrial enterprise, digital twin use cases are primarily being adopted across engineering, operations, and service – driving significant business value and laying the groundwork for digital transformation across the enterprise. Learn how developing a digital twin strategy can help you harness the convergence of the digital and physical worlds.
Digital Twin: A Primer for Industrial Enterprises
As industrial enterprises generate increasing volumes of data about the physical world, they're mapping this data back to the IT systems that define their products, processes, and people to enhance the digital thread. Digital twins are quickly proving to be a key strategic accelerator for digital transformation, unlocking the value within the data created by the Industrial Internet of Things (IIoT) using PTC Thingworx and Kepware and augmented reality (AR) using PTC Vuforia.
PTC THINGWORX
Thingworx is an IIOT platform that is used to Manage the development lifecycle of your industrial IoT application in one centralized place.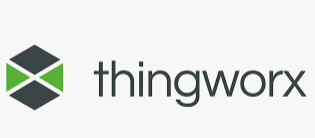 Industrial companies face pressing challenges that require IIoT solutions. To address a wide range of manufacturing, service, and engineering use cases, PTC has spent years innovating the ThingWorx IIoT platform.
From remote monitoring and service to workforce efficiency and asset optimization, ThingWorx solves common challenges across different industries.
Because building IIoT solutions is often cited as a pain point,  ThingWorx is designed to reduce these barriers. Cruise from pilots to enterprise-scale solutions, using pre-built applications and developer tools.
With PTC ThingWorx, you can achieve the following:
Maximize Revenue
Accelerate Innovation
Reduce Costs
Improve Quality
Maximize Flexibility
To read more, CLICK HERE.
PTC KEPWARE
Kepware is a software development business of PTC Inc. Kepware provides a portfolio of award-winning software solutions that help businesses connect diverse automation devices and software applications and enable the Industrial Internet of Things.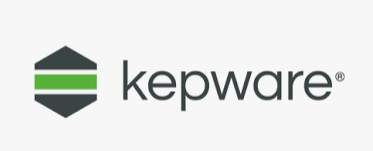 From plant floor to wellsite to windfarm, Kepware serves a wide range of customers in a variety of vertical markets including Manufacturing, Oil & Gas, Building Automation, Power & Utilities, and more. Established in 1995 and now distributed in more than 100 countries, Kepware's software solutions help thousands of businesses improve operations and decision making.
PTC VUFORIA
Vuforia provides the fastest, easiest and most advanced AR content development solutions to help industrial enterprise customers address workforce challenges and meet business goals.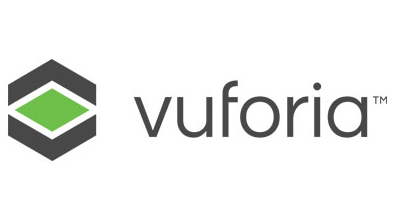 Vuforia's Augmented Reality solutions have numerous practical applications—where to start depends on understanding where you'll get the fastest, most meaningful ROI. These use cases stand out as offering easy adoption, clear returns, tangible benefits, and a roadmap to scale up.
Ozen Engineering Digital Twin Prototypes
Contact us to learn more or to schedule a demonstration.
Check out a recent Ansys Blog Post on "How to Create a Digital Twin" where Ozen Engineering is featured.