optiSLang (Adv. Optimization)
optiSLang for Ansys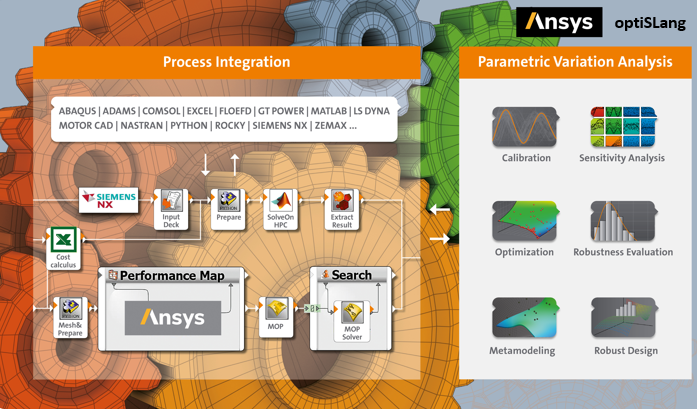 optiSLang inside Ansys Workbench – easy and flexible to use
Ansys Workbench provides new opportunities to bring together automatically parametric CAD and CAE models making them available for virtual product development and optimization. At the same time, in optiSLang, efficiency and automation level of RDO methods also for complex non-linear analysis models with many parameters of optimization and stochastic variables, with design failures as well as solver noise have been decisively improved.
With optiSLang inside Ansys Workbench, the automated generation of an interactive process chain using the CAE-based modules of sensitivity analysis, optimization and robustness evaluation is possible with a minimum of user input. The software filters automatically the most important parameters and evaluates the prognosis quality of the response variation with the help of meta models. A best practice management chooses, accordingly to the RDO task, an optimization strategy with the most fitting algorithms. The new graphical user interface supports this workflow approach.
Product bundle: "optiSLang for Ansys"
The product bundle consists of the following products:
optiSLang inside Ansys Workbench
optiPlug (interfacing between Ansys and optiSLang)
optiSLang v4 with Ansys Workbench node
optiSLang inside Ansys Workbench – General Features

Integrated Mode:

Minimal effort to set up an RDO analysis
Automatic identification of important parameters
Multidisciplinary and multiobjective optimization
Robustness evaluation
Applicable also for large number of parameters and non-linear RDO tasks
Minimizes solver runs
Efficient result post-processing

flexible interfacing between optiSLang v4 and Ansys Workbench via integration node or optiPlug:

easy to switch from integrated to flexible mode at any time
full functionality using also parameters and responses not extractable or integrated in Ansys Workbench, e.g. non-scalable responses like load displacement curves
extention of process chain by in optiSLang additionally available solver, modules or pre/post processing elements

Current Version 4.2.0

Select files of generated data (e.g. pictures) to be copied in optiSLang design directory
Filtering of message log with specification of log level (info, warning, error)
Embedded optiSLang options in ANSYS preferences
ETK is now available inside ANSYS Workbench as new optiSLang postprocessor for result extraction (e.g. rst-, rth-, txt-files)

.