Industrial Internet of Things (IIoT)
Connect your machines, employees, and processes—unlocking new data-driven capabilities.
---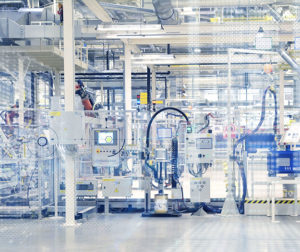 What is IIoT?
The industrial Internet of Things (IIoT) connects your people, products, and processes to power digital transformation. Using industrial IoT platforms, companies connect, monitor, analyze, and act on data in new ways.
You can start fast with digital transformation, using IoT for strategic pilots, while easily scaling solutions to reshape your organization. Leaders depend on the industrial IoT from how they design, manufacture, and service products, to how they create value and engage with customers.
IIoT solutions: unlock your potential
The best way to accelerate digital transformation is by using a proven industrial IoT platform that's purpose-built for you. An established platform offers several advantages:
Maximize Revenue
Scale to new markets, improve throughput, and unlock new business models such as products as a service.
Reduce Time
Get to market faster with rapid application development. Use industrial Internet of Things platforms to wrap and extend legacy assets for new functionality.
Reduce Costs
Harness data from connected products and systems to boost productivity and efficiency while lowering costs.
Improve Quality
Make product, service, and factory operations more secure and scalable. Improve service quality, reliability, and satisfaction.
Drive rapid value with IIoT use cases
Accelerating your digital transformation takes more than just the right industrial Internet of Things platform. You also need pragmatic applications of technology that will make an impact on your business. PTC customers use our IIoT products to address proven use cases—building a repeatable roadmap for success:
Product as a Service
Boost customer experience and drive demand with new product capabilities and innovative services.
Remote Condition Monitoring
Prevent downtime and minimize your on-site footprint to improve customer success and satisfaction.
Digital Work Instructions
Give your frontline workers the digital tools and data they need to safer and more productive.
Real-time Visibility
Deliver operators real-time data to ensure uptime, maximize asset efficiency, and improve output quality.
Plant Benchmarking
Shop-floor improvements start with better KPSs. Use plant-benchmarking for consistent performance analysis.