Application Customization Toolkit (ACT) for ANSYS Mechanical
ACT enables the creation of vertical applications that capture domain-specific requirements and engineering know-how in the ANSYS Mechanical environment, delivering a unified workflow with the full benefit of ANSYS Workbench (closed-loop, parametric optimization; persistent, associative CAD integration; multiphysics, etc.), and tailored ease of use. Users can introduce customized pre- and post-processing features, encapsulate APDL script, expose MAPDL solver functionality, and integrate third-party components with the skill set of an application engineer versus deep development expertise.
Custom User Interfaces for Process Automation
In the ANSYS Engineering Knowledge Manager (ANSYS EKM) Studio application, a user no longer requires manual scripting to generate custom UIs for process templates. The release offers a code-free, drag-and-drop user interface design and prototyping tool for creators of process templates. This includes a standard library of common UI widgets — which results in faster time to completion and increased productivity.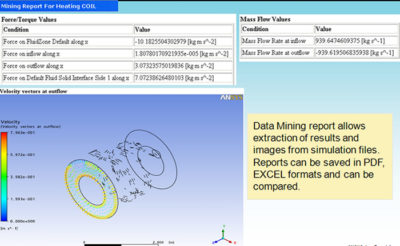 Custom UI builder for deploying simulation templates
EKM Workbench Integration
Efficient send/get changes operations ensure that when a Workbench project is updated locally and changes are sent to the EKM repository from Workbench, only the changed/modified files are updated in the repository. Tighter integration, along with the revision control and set alerts options with Workbench, facilitates collaboration with ongoing projects and allows multiple users to leverage work that is being done by colleagues.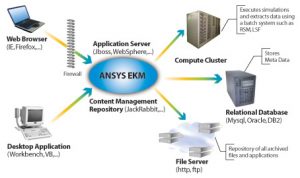 ANSYS EKM integration with ANSYS Workbench