Message from your Channel Partner 

Welcome to September! September is the month when we see increased amount of activity in terms of training, sales, and consulting; most of us are back from our summer vacations and kids' schools started already. One can tell business is back to normal with the increased traffic on the roads. A long time ago (during 1999-2000 time frame), when I was complaining about traffic, a very good friend of mine reminded me that "the people driving the cars on the roads are potential clients". I always remember his words when I get stuck in traffic because I have also seen the eerie side when business went down significantly right after 2002 market crash as well as the 2008 financial crisis.
In our ANSYS business, I would like to mention a few important events coming up this fall. With respect to our cloud business, we now offer "bring your own license" cloud services. This means you can use your current ANSYS licenses on our cloud and pay only for the hardware usage. OzenCloud may come in handy for your needs in cases when you are ready to submit a heavy duty structural, CFD, or electromagnetics run. You can use your own license and submit your job on our powerful cloud computers with virtually unlimited memory and CPUs.
This fall, we are changing our webinar schedule; all our webinars will be on Wednesdays at 11AM and you will be able to watch these sessions online. We will even record them for you so that you can watch them at your convenience. Some of these webinars will be followed by a lunch event; the most immediate one coming up on October 5 where we will serve you "lamb barbeque" if you happen to show up for the webinar in person!
Please mark your calendars for October 13-14. We will be co-hosting the ANSYS Convergence Conference with ANSYS at the Computer History Museum in Mountain View. If you are interested in submitting a presentation, please let me know. We are looking for Multiphysics presentations from our customer base who may want to share some interesting ANSYS applications.
Another exciting news is that we will also start teaching ANSYS classes on the East Coast in September. If your company has offices and engineers on the east coast, they can attend ANSYS classes at our new location in Durham, NC. We have started a collaboration with Mallett Technology, Inc. and we will be using their training facilities. To sign up for any of these classes or to see what is being offered, please visit (www.ozeninc.com/training).
Finally, please note that R17.2 is now available on the customer portal. ANSYS will continue to have one major and two minor releases, like we have seen last year and this year, in the foreseeable future. This is a sign of continued and aggressive investment of ANSYS in developing and keeping ANSYS software products #1. Please feel free to contact me if I can be of help with your FEA & CFD needs. Thank you for your business. Have a great September!
By Metin Ozen
---
 Message from the VP of Sales
Upcoming ANSYS-Ozen Engineering Technology Conference
October 13th-14th
We are pleased to join ANSYS to support the upcoming 2-day technology conference to be held on October 13th-14th at the Computer History Museum in Mountain View.
Come and join us to learn about ANSYS' latest technologies and solutions for IoT, wearables, medical devices, MEMS and thermal management etc. The 2nd day is devoted to Electric and Autonomous Vehicles, where you can learn from keynotes and domain experts discussing some of the following:
• electric powertrains
• batteries
• durability
• crash
• composites
• embedded software
• antenna and sensors
In addition, you will have an opportunity at the museum to learn about the history of the computers and the roots of today's internet and mobile devices. The museum has over 1100 historic artifacts, including some of the very first computers from the 1940s and 1950s.
As Metin mentioned, we will invite our customers to present a technical paper at the conference. Currently, we have two slots open and they will be filled based on first come, first serve basis. If you are interested to present, please send me your abstract ASAP.
We will post the agenda and details on our website soon.
Looking forward to meet you at the conference!
By Casey Heydari
casey.heydari@ozeninc.com
(408)-732-4665
---
What's New at Ozen Engineering?
BBQ Lunches!
Are you tired of having the same old pizza at events during work lunches? So is our team at Ozen Engineering! Luckily, we have 2 secret weapons – Chris Cowan and a fancy BBQ grill.
Many of you know Chris and have had the pleasure of working with him over the years for technical support or consulting projects. In addition to his title as VP of Engineering, Chris is Ozen Engineering's King of the Grill, known for his master chef BBQ skills.
You may be wondering how you can join in on the festivities. On October 5th at 11 a.m., we will host an in-person seminar (also available online) entitled "Application Focus: Conduction, Convection, Radiation, and Thermal-Stress" taught by Dr. Metin Ozen. For those of you who are able to attend this seminar at our office in Sunnyvale, we will have a BBQ lunch immediately following the session. If you are interested in attending, please register here.
Come join us on October 5th!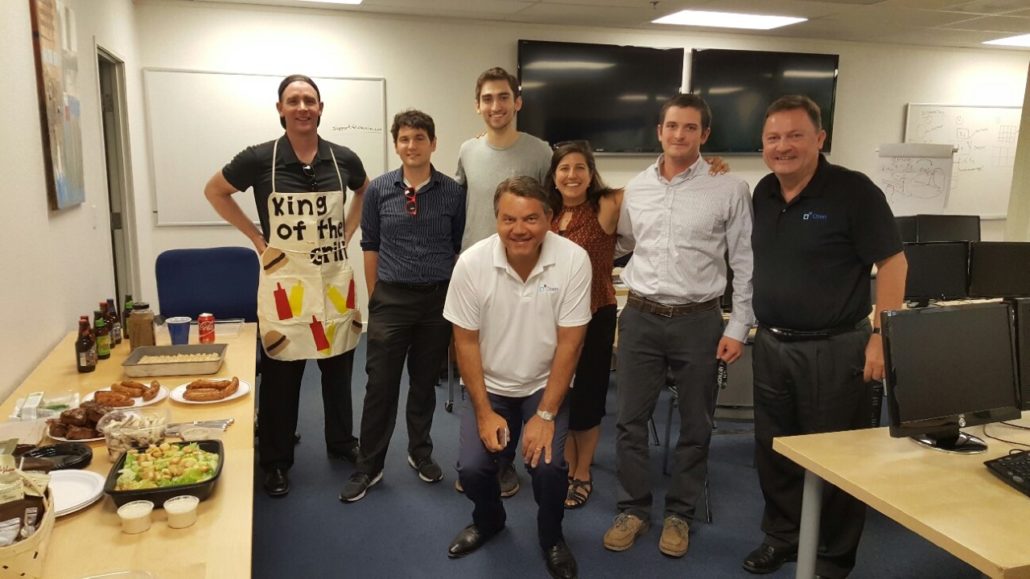 ---
Tech Tip
SpaceClaim Primer – Up and Running in Half an Hour

Interested in SpaceClaim but finding it hard to get into? Have half an hour to watch a video? Then this SpaceClaim primer is for you. In this video I go over many of the most important features of SpaceClaim from the perspective of a CAE analyst. Since SpaceClaim has so much power packed in one program, you may not even think to look for many of these features until you get deeper into the software. That's what makes this video a great jumping off point to show many of the powerful features of the software at a high level to get you up and running.
In this video I go over:
The Big 4 Modeling Operations: With these 4 operations you can accomplish most of the functionality of traditional CAD tools. See how they allow this and so much more.
Productivity Enhancements: From the cross section view, clip to volume, organizing with layers and power selections you will be able to work with geometry faster and in new ways.
CAE Prep: Extracting fluid volumes, shared topology for meshing and parameters the simple way and the powerful way. SpaceClaim has the CAE specific functionality to get your geometry ready for analysis.
Reverse Engineering: Whether you're loading an image directly in the software to use as a reference or using SpaceClaim to automatically extract the curves, the reverse engineering capabilities baked into SpaceClaim are extremely powerful. Using SpaceClaims unique ability to simultaneously work with CAD parts and an STL mesh, a biomedical scan geometry will also be processed.
If learning about all of the above in half an hour seems worthwhile to you check out the video below:
[signinlocker id=121707]
[/signinlocker]
Amazing features of SpaceClaim not covered by the above:
Drawings creation
Wrapping functionality
Beam Extraction
Patterns/Mirror/Offset relationships
Mechanisms
Advanced Surface Manipulation
Faceted Data Add-on
Photo-realistic Rendering Add-on
If this was useful to you and you'd like to hear other ways to speed up your simulations contact us or subscribe to our newsletter below:
[gravityform id="1″ title="true" description="false"]
---
 Tech Tip
R17.2 HFSS Update: Automatic Touchstone File Export
ANSYS provides some new features in HFSS R17.2. Automatic Touchstone File Export is a new feature in HFSS that makes your engineering simulation life much easier and happier :-).
Dynamic Link workflow links the S-parameter solutions from EM simulators like HFSS designs to circuit simulator for linear circuit analysis. For example, in Antenna design, you can export S-parameter from HFSS design into a circuit simulation to match the antenna.
The new feature automatically exports the touchstone files to a user selected directory. You just need to set it in HFSS Design Setting:
Launching ANSYS Electronics Desktop 2016.2 HFSS

HFSS – Design Setting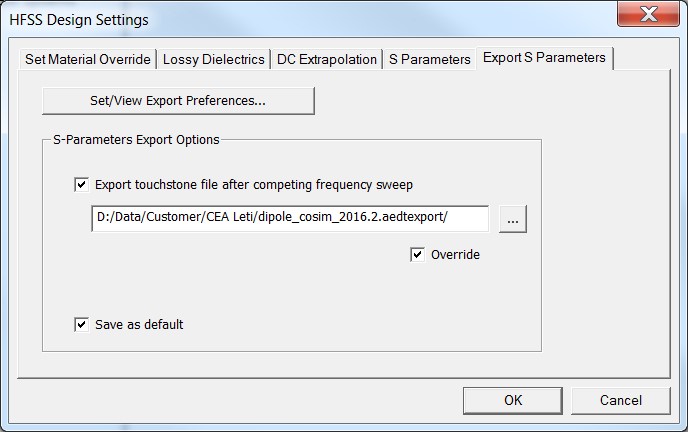 The default directory for saving the touchstone files is in same location as results directory.
<projectname>. Aedtexport

<Designname > folder

<solutionname > + time stamp + date stamp folder >

Touchstone file name = _< sweepname > + solution data base stamp
Also included in same directory is index.csv file.

Maps values of parameters to touchstone file names in directory.

By Mehrnoosh Khabiri
Free Webinars:
 Industry Spotlight: MEMS Simulation – September 7
Industry Spotlight: Antenna Design for Internet of Things – September 14
Industry Spotlight: BioReactor Mixing CFD Simulation – September 21
Application Focus: Power of Direct CAD Modeling with SpaceClaim – September 28
Application Focus: Conduction, Convection, Radiation and Thermal-Stress – October 5
Professional Training:
Introduction to ANSYS Fracture Mechanics – September 1-2
Introduction to ANSYS Fatigue – September 6
ANSYS Mechanical Advanced Connections – September 7-8
Introduction to ANSYS Electromigration – September 9
Introduction to ANSYS DesignModeler – September 13
ANSYS AIM Multiphysics – September 14
Introduction to ANSYS DesignXplorer – September 15
Multiphysics Simulations for MEMS – September 15-16
Introduction to ANSYS Mechanical – September 20-22
Introduction to ANSYS Acoustics – September 23
Introduction to ANSYS Simplorer – September 27
Introduction to ANSYS Mechanical – September 27-29
Introduction to ANSYS SpaceClaim Direct Modeler – September 28
Clean Energy Simulations for the Solar Industry – September 29-30
Introduction to ANSYS LS-Dyna – September 29-30
Introduction to ANSYS Explicit STR – October 4-5
Intro to ANSYS Application Customization Toolkit (ACT) – October 6-7
Introduction to ANSYS Mechanical Heat Transfer – October 14
Introduction to ANSYS Mechanical – October 18-20
Introduction to ANSYS Maxwell – October 20-21
Introduction to ANSYS DesignModeler – October 21
Introduction to ANSYS Composite PrepPost – October 25-26
Introduction to ANSYS DesignXplorer – October 27
Introduction to ANSYS SIwave – October 28
---
OzenCloud
Is your compute environment too small to handle your ANSYS workloads? Are you looking for performing additional ANSYS simulations on more and faster computers on demand, in our secure cloud environment?
OzenCloud is a perfect platform for customers who are concerned about surge capacity and compute resources or have a short term project but do not wish to commit to a license purchase. In addition, OzenCloud provides dramatic performance improvements to FEA and CFD simulations, leveraging advances HPC technologies from the world's leading hardware vendors.
If you need any easy to use, on-demand and scalable simulation environment at affordable prices, contact us today for an OzenCloud trial.
---
Ozen Engineering, Inc.
Newsletter
1210 E. Arques Ave #207
Sunnyvale, CA 94085
(408) 732-4665