Message from your Channel Partner 

Welcome to July! This is the time of the year when many co-workers go on vacation. If you are on vacation, have a great time and enjoy it!
The month of June was busy with technology as well as sports: Copa America soccer matches here as well as UEFA Euro soccer games in France. In the meantime, ANSYS has put together a nice series of webinars that talks about how simulations help the sports industry; from kayaks to soccer ball aerodynamics to bicycle racing. You can see that past and future webinars here.
In the month of June, there were a couple of important presentations that we were involved in; the first one was on "IoT: Modeling Sensors and MEMS with ANSYS". This presentation talked about IoT and how MEMS fits in the IoT frame as well as examples of ANSYS simulations for MEMS applications. The second presentation was NextFlex workshop on "Flexible Hybrid Electronics (FHE) Modeling & Design Tools". This workshop was about adapting today's computer aided design tools for electrical, mechanical, thermal, and other simulation of FHE devices/materials.
So, have a happy 4th of July weekend and please let me know how I can be of help with ANSYS software tools and simulations. Have a great July!
By Metin Ozen
---
 Message from the Sales Manager

ANSYS AIM Promotion – A Dream Come True for Designers and Engineers

As we are getting closer to the end of Q2, some of our promotions will end on June 30th. However, the good news is that we have introduced an attractive promotional campaign for ANSYS AIM, which will last through September 30th , 2016.
Over the next few months, we will sponsor three free webinars about ANSYS AIM to educate designers and engineers as to how ANSYS AIM can be used for multi-disciplinary simulation and product design. For an introduction to ANSYS AIM, watch this video:
ANSYS AIM is a simulation environment designed to make it easy for engineers to reap the benefits of single physics and multiphysics simulations when designing their products. Automated, intuitive workflows allow you to skip the steep learning curve and start using simulation early in your design process, when the cost of making changes is minimal. Every engineer in your organization, including recent college graduates and less experienced product engineers, should be using simulation to get your products to market faster and more cost-effectively. ANSYS AIM can make this happen.
 Here are three things you can do to participate in this special offer:
Register for three free webinars about ANSYS AIM so you can see yourself what it can do
See if you qualify for a 21-day free trial license of AIM with full support from ANSYS experts
Take advantage of special pricing on AIM licenses through September 30, 2016
Don't miss out on this opportunity! Contact us today.
casey.heydari@ozeninc.com
(408) 732-4665
New Multiphysics Coupling for Electric Machine Design in ANSYS R17.1
ANSYS offers a comprehensive Multiphysics Design for Electric Machines.  ANSYS' electric machine design flow provides a complete virtual prototyping laboratory for machine design and development. The Electrical Machine Design Methodology includes machine design, finite element analysis, system analysis, optimization, thermal, stress and acoustical analysis. In ANSYS 17.1, a new Multiphysics coupling for Electric Machine Design is added. Automatic link generation from Maxwell-RMxprt to Icepak is a new multiphysics capability which provides:
– Geometry generation
– Mesh control definition
– Boundary and excitation definition
– Creating CFD transient settings
RMxprt solved models can be exported as an Icepak design. To create an Icepak design:
Click RMxprt > Analysis Setup > Create Icepak Design; or right-click on the analysis setup in the Project tree and select Create Icepak Design from the context menu.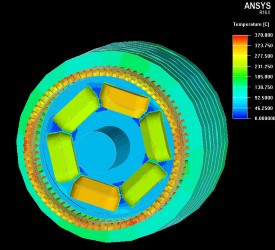 For more information about Electric Machine designs, please visit our website- industry solution section- for Electric Motors.
---

Wondering what hardware is required to run ANSYS? Check out our updated
ANSYS hardware requirements page
. Decide on your hardware form factor, learn about HPC in two dimensions and hardware developments on the horizon in this post and create a solid foundation for your ANSYS simulations that you can build on for years. 
Form Factors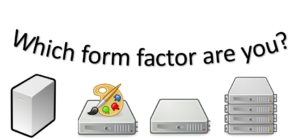 The first decision to make in the hardware buying process is to choose a form factor. Every organization is different in its computational resource requirements, number of engineers and existing simulation infrastructure. Workstations are a good starting point for many, and can take you a long way, but are more suited to a single engineer. Multiple engineers may make use of a centralized server but issues of pre and post processing can severely degrade the user experience. Whether to invest in graphical resources for a server or to supplement it with a number of relatively modest workstations is an important distinction to make early on. For even greater computational ability, clusters of machines are more affordable than ever but present their own challenges. These are conversations that we've frequently had with our customers and this update to the page is a distillation of our recommendations.
See our ANSYS Hardware Requirements Page to decide which form factor is best for you.
HPC in two dimensions:
Did you know that you can scale your ANSYS simulations in two dimensions? For your parametric simulations you can run the same simulation on multiple cores or you can run the different parametric variations (design points) at the same time. You can also combine the two to really crunch through a design space in great time. In my opinion, not enough customers know about both HPC Packs and HPC Parametric Packs which is why I have created this chart.
Remember to use the Remote Solve Manager service to get the most out of your HPC Parametric Pack! You may not have a single big computer than can handle 32 simultaneous solves but if you add several computers to an RSM queue, the simulations will be distributed among the different computers.
Looking forward to the future:
The following is not on the updated page since it would go out of date quickly, but I thought I share some upcoming things I thought were exciting:
It looks like NVIDIA is doing a major architecture update for their Tesla GPUs. The projected specs seem to suggest at least a doubling of performance from current generation GPU cards. The Tesla P100 is in limited release now and should be generally available early 2017.
Intel seems to be bumping up against the physical limits of Moore's law, delaying its famous tick-tock development cycle in lieu of another tock. The 10nm process shrinkage 'tick' will need to wait for 'Cannonlake' in 2017. There are even suggestions that two step tick-tock cycle may become a tick-tock-opt cycle, with a third Optimization stage to fill it out.
AMD is releasing its anticipated Zen CPUs later this year, which are slated to deliver a 40% performance improvement over current processors.
Keep up to date on hardware and ANSYS simulation news and tips by subscribing to our newsletter:
[gravityform id="1″ title="true" description="false"]
By Kaan Divringi
---
Upcoming ANSYS Training & Events 
July & August

Design Optimization with optiSLang – July 1
Multiphase Flow Modeling using ANSYS Fluent – July 5-6
Introduction to ANSYS CFX – July 7-July 8
Introduction to ANSYS Meshing – July 14
Introduction to ANSYS Composite PrepPost (ACP) – July 14-15
Introduction to ANSYS Mechanical – July 19-21
Introduction to ANSYS SIwave – July 22
Electromigration Simulation in ANSYS – July 26
Introduction to ANSYS Icepak – July 27-29
ANSYS Mechanical Material Nonlinearities – August 2-3
Introduction to ANSYS Maxwell – August 4-5
Introduction to ANSYS Application Customization Toolkit (ACT) – August 9-10
Introduction to BGA-Solder Joint Reliability Simulation – August 11
Introduction to ANSYS Mechanical Heat Transfer – August 12
Introduction to ANSYS Mechanical – August 16-18
Introduction to ANSYS HFSS – August 17
ANSYS HFSS for Antenna Design – August 18-19
Introduction ANSYS Mechanical Linear and Nonlinear Dynamics – August 23
Introduction to ANSYS Mechanical APDL – August 23-26
Introduction to Orthopedic Implant Simulation – August 25-26
Introduction to ANSYS Mechanical Nonlinearities – August 30-31
---
OzenCloud
Is your compute environment too small to handle your ANSYS workloads? Are you looking for performing additional ANSYS simulations on more and faster computers on demand, in our secure cloud environment?
OzenCloud is a perfect platform for customers who are concerned about surge capacity and compute resources or have a short term project but do not wish to commit to a license purchase. In addition, OzenCloud provides dramatic performance improvements to FEA and CFD simulations, leveraging advances HPC technologies from the world's leading hardware vendors.
If you need any easy to use, on-demand and scalable simulation environment at affordable prices, contact us today for an OzenCloud trial.
---
Ozen Engineering, Inc.
Newsletter
1210 E. Arques Ave #207
Sunnyvale, CA 94085
(408) 732-4665