---
Message from your ANSYS Channel Partner
Happy New Year! Along with a brand new year, a brand new version of ANSYS, R17, will be made available to you at the end of January. For the past couple months, our staff went through internal training on R17. We all are excited about the new capabilities of R17; we will be installing the new version on all our computers as soon as it becomes available. Please attend our "Lunch & Learn" events so that you get to learn all the new capabilities of R17!
On January 30th, I will be teaching a class for ASME on "Fracture Mechanics and Fatigue: Theory and Modeling for Mechanical Engineers". For more information and the agenda for this class, please visit https://scvsjan2016pd.eventbrite.com. This ASME class (to be held at Santa Clara University) is a condensed version of our in-house two-day class where we have more time for hands-on workshops. So, if you would like to learn more about Fracture Mechanics and Fatigue or refresh your memory, please sign up for this ASME class or visit our website for our in-house classes (www.ozeninc.com/training).
As we turn the page from 2015 to 2016, I can think of a quote by C.S. Lewis "There are far better things ahead than any we leave behind". Thank you for a great 2015 and we are looking forward to serving you in 2016. Please contact me metin@ozeninc.com if I can be of help with your ANSYS simulation products. Have a great January!
---
Message from the Sales Manager
How did we do in 2015?
As we leave 2015 behind and entering the new year, I am pleased to share with you that we had our strongest year in the history of our company in 2015 both in terms of new business and number of customers. We are very grateful and would like to extend our appreciation to all those who selected Ozen Engineering, Inc. for their ANSYS licensing, technical support, training and consulting services.
High Tech Trends in 2016
The Computerworld recently surveyed 182 top IT professionals and executives to determine the tech trends in 2016 and where the companies were planning to invest their budgets. As demonstrated in the chart below, IoT came at the very top followed by HPC and green energy.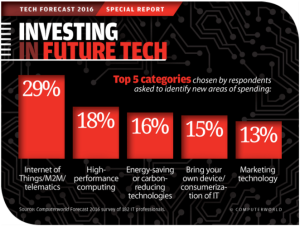 The Internet of Things is poised to change to change the way we live, work, interact and seek out entertainment. The IoT represents an incredible opportunity to revolutionize the product development value chain. While 2 billion smart devices were sold in 2006, it is estimated that this figure will grow to 200 billion by 2020. Devices will outnumber people by a ratio of 26 to one!
With the proliferation of IoT and electronic devices, engineers and designers are challenged to meet the consumer expectations with high quality products, reliability, efficiency and ease of use coupled with high performing connectivity and electronics at low prices.
This is where simulation comes in. ANSYS Multiphysics and electronic products are well suited to help high manufacturers with complete virtual built to test thousands of designs in a risk-free, low cost alternative to physical prototypes. The simulation will help engineers to overcome the design challenges to optimize speed, bandwidth, signal integrity of antennas, EMI/EMC, structural performance and help them to study advanced material behavior and thermal performance.
The ANSYS HPC solutions will ensure that engineers can dramatically reduce the simulation time for CPU intensive jobs and study thousands of design iterations – automatically, at record time.
The simulation driven product development (SDPD) is a key strategy for high tech companies to satisfy consumers' demand to launch innovative products at a rapid pace, cost effectively and confidently.
To learn how ANSYS and Ozen Engineering can help you with your product development efforts, please contact me.
Casey.Heydari@ozeninc.com
(408) 732-4665
---
Welcome Maryam Nemazie
Ozen's New Operations Manager

We are happy to introduce Maryam Nemazie, our new Operations Manager at Ozen Engineering! Maryam comes to Ozen with a background in the legal field, specializing in Intellectual Property and Advertising Law. Prior to joining Ozen, Maryam worked as a trademark attorney at LegalForce, where she ranked as the #9 attorney in the United States for the number of trademark applications filed in 2011. With her extensive background in trademark law, Maryam worked as a contract attorney at SanDisk on the Trademark, Advertising, and Brand Protection team, where she provided legal guidance on world-wide trademark filing strategies. Maryam also reviewed advertising collateral and retail packaging throughout the Americas, APAC, and EMEA regions. While at SanDisk, Maryam volunteered with Citizen Schools, a non-profit designed to expose lower income youth in the areas of STEM education. Through her volunteer efforts, Maryam was the recipient of the 2014 President's Volunteer Service Award. Maryam's passion for youth issues exposed her to the non-profit world, where she most recently worked as a Law Program Site Manager for Fresh Lifelines for Youth, a non-profit organization serving at-risk youth by preventing juvenile crime and incarceration through legal education and leadership training. In her free time, Maryam enjoys hiking and traveling with her family. Maryam is excited to join the team at Ozen Engineering and looks forward to working with you!
Please contact Maryam (Maryam.Nemazie@ozeninc.com) with any questions.
---
Tech Tip
Did you know that there are three main ways to apply force and displacement in a structural analysis?
They are:
Displacement/Force – Most straightforward, least amount of setup work.
Remote Displacement/Remote Force – Rigid/Deformable/Coupled behaviors available for scoped face, able to apply a rotation displacement.
 Nodal Displacement/Nodal Force – Can add to a model and still do a nonlinear restart, not necessary to scope to a geometry entity.
What are the different behaviors and how can you add a new load to an analysis you wish to restart? Read more below:
Remote Displacement Behaviors
There are three behaviors available with remote boundary conditions:
The remote boundary conditions are implemented with the Multipoint Constraint (MPC) technology. For more information, see the corresponding section in the Contact Technology Guide of the ANSYS documentation.
Nonlinear Restarts
All of the above loads are compatible with nonlinear restarts but only tabular data after the desired restart point may be modified and only on a pre-existing load. This is because the regular and remote loads actually create surface effect elements (SURF154) to implement the load behind the scenes. While this confers several benefits, such as the ability to have overlapping loads on the same face, it is not compatible with nonlinear restarts since adding new elements would change the model too much. Direct forces and pressures are applied directly to the nodes, however, and avoid this restriction. This functionality is not available for direct displacements since a displacement of 0 is a constraint and would invalidate the restart points.
To add an entirely new load (force/pressure only) to an analysis:
To ensure that restart points are available make sure to set Analysis Settings -> Restart Controls -> Retain Files After Full Solve to Yes
Add a load step by setting increasing the number in Analysis Settings -> Step Controls -> Number of Steps
Create a nodal named selection of the desired load location, either through the Named Selection Worksheet or the Mesh Selection capabilities in Mechanical
Insert a Nodal Force or Nodal Pressure into the analysis and scope it to the above nodal named selection
Modify only the tabular data for load steps that are not yet solved for!
Solve the analysis (should do restart automatically, if not set it in Analysis Settings -> Restart Analysis)
Did you find this useful? Sign up for our newsletter below to receive tips like this and more every month:
[gravityform id="1″ description="true"]
Please contact Kaan@ozeninc.com with any questions.
---
Tech Tip
Electromagnetic Compatibility (EMC) is the ability of devices to work without any errors in their intended Electromagnetics (EM) environment and Electromagnetic Interference (EMI) is electromagnetic emissions from the devices that interfere with normal operation of other devices. ANSYS EM and Circuit simulation products provide fast and accurate EMC/EMI predictions— enabling Engineers to understand the EM interactions and system performance in early stage of product development. ANSYS tools needed for EMC/EMI Simulations are SIwave (Board Analysis), HFSS (Full 3D enclosure), and Designer (Realistic clock/timing, and digital signals). Full System EMC/EMI simulation methodology includes:
Capturing the system geometry and utilizing the right tool
EM analysis of the system over the interested frequency range
Link the EM solution into a time domain analysis (Transient Signal)
Combining ANSYS frequency and time domain simulation tools to predict EMI
Radiated EMI from Electronic devices
The four common EMI coupling modes are Conductive (Electric Current), Capacitive (Electric Field), Inductive (Magnetic Field), and Radiative (Electromagnetic Field). ANSYS Simulation is an extremely effective method to predict EMI/EMC issues in full systems and will reduce costly prototyping and testing cycles. Try it today!
Did you find this useful? Sign up for our newsletter below to receive tips like this and more every month:
[gravityform id="1″ description="true"]
 Please contact Mehrnoosh.Khabiri@ozeninc.com with any questions.
---
Lunch & Learn – What is New in ANSYS Mechanical/APDL?
January 13th, 2016 11:30AM – 1:00PM (lunch provided)
Upon completion of this event, attendees are eligible to receive a 14-day evaluation license.
---
Lunch & Learn – What is new in R17 ANSYS/CFD & Meshing?
January 27th, 2016 11:30AM – 1:00PM (lunch provided)
Upon completion of this event, attendees are eligible to receive a 14-day evaluation license.
Join us for this upcoming  event featuring ANSYS CFC/Meshing. This Lunch & Learn will allow you to learn about the new capabilities in the ANSYS R17.0.
---
Lunch & Learn – What is new in R17 Electromagnetics?
January 27th, 2016 11:30AM – 1:00PM (lunch provided)
Upon completion of this event, attendees are eligible to receive a 14-day evaluation license.
---
  Upcoming ANSYS Training/Events In January/February

Browse and sign up for classes directly on our website, no phone call or email needed.
---
OzenCloud
Is your compute environment too small to handle your ANSYS workloads? Are you looking for performing additional ANSYS simulations on more and faster computers on demand, in our secure cloud environment?
OzenCloud is a perfect platform for customers who are concerned about surge capacity and compute resources or have a short term project but do not wish to commit to a license purchase. In addition, OzenCloud provides dramatic performance improvements to FEA and CFD simulations, leveraging advances HPC technologies from the world's leading hardware vendors.
If you need any easy to use, on-demand and scalable simulation environment at affordable prices, contact us today for an OzenCloud trial.
---
Ozen Engineering, Inc.
Newsletter
1210 E. Arques Ave #207
Sunnyvale, CA 94085
(408) 732-4665