---
Message from your ANSYS Channel Partner

R17 is here! It is the best release of ANSYS and this is not just marketing talk but also an engineer's opinion! There are so many new features in R17 that we divided it up into three sessions and there is still not enough time to talk about all of the new features. The ANSYS marketing department came up with "ANSYS 17.0: Excellence Times Ten (10X)". For an engineer like me, it really means 10X the productivity. What I have tested so far, all points to minimum 10X the productivity in R17. So, hold on to your seats, with R17, you will be more productive and happy with the application!
R17 is not the only news I would like to convey to  you; a couple weeks ago, Ozen Engineering, Inc. received a prestigious award from ANSYS, Inc.: "Channel Partner of the Year 2015". When you go to our website and below, you will be able to see our picture taken with Jim Cashman (CEO of ANSYS) and Bob Kocis (VP of Sales ANSYS). We would like to thank you for contributing to our success in 2015. I would like to return the favor by making you successful in 2016! So, please feel free to reach out to me, 
metin@ozeninc.com
, and let me know how I can help you with ANSYS products. Have a great February!
By Metin Ozen
---
Message from the Sales Manager
Annual Sales Kickoff Conference Update – Ozen Engineering, Inc. won two awards
No. 1 Channel Partner of the Year!
No. 1 Channel Partner Sales Representative for 2015!
Every January, ANSYS kicks off the year with an Annual Sales Conference held in snowy Canonsburg, Pennsylvania. At this 3-day conference, Dr. Ozen and I attended trainings, where we received the latest updates on ANSYS products and sales information, followed by an awards ceremony honoring 2015 sales achievements.
I am pleased to share with you that I received the No. 1 Channel Partner Sales Representative for 2015 and we also won the No. 1 Channel Partner of the Year in the Americas! It is truly an honor to receive these awards and I would like to thank YOU. This achievement would not have been possible without clients such as yourself. Thanks to your support and the relationships we have built over the years, Ozen Engineering started off 2016 with a bang. I look forward to what we can accomplish together this year!To learn how ANSYS and Ozen Engineering can help you with your product development efforts, please contact me.
Casey.Heydari@ozeninc.com
(408) 732-4665
---
What's New at Ozen Engineering?
HFSS Software Products Now Available 
We are excited to announce that ANSYS Electronic Products (Low and High Frequency Electromagnetic) are now available at Ozen Engineering! ANSYS industry leading electromagnetic field, circuit, systems and multiphysics simulation software can help you optimize your product performance and design better products. Here are the ANSYS Electronics featured products that Ozen Engineering, Inc. provides sales, support, and training: HFSS, SIwave, Savant, EMIT, Icepak, Maxwell, and Q3D Extractor.
On February 3, we have a Lunch & Learn on Electromagnetics that you don't want to miss!
If you are interested in receiving more information, please contact our Sales Manager Casey Heydari at casey.heydari@ozeninc.com to request a quotation for ANSYS Electronic products.
---
Tech Tip
Advanced ANSYS Workbench Files (MEMS Example)

Workbench provides an incredible amount of organization and automation for all your simulation files behind the scenes. Whether you want to be more appreciative of all that Workbench does in the background or you want to customize it for advanced applications, it helps to be familiar with what is happening with your files.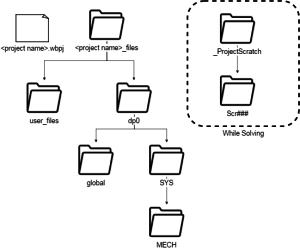 The ANSYS Workbench file system for an ANSYS Mechanical project, including the temporary solution directory.
The typical Workbench project will have, at the top level directory, a <project name>.wbpj file and a <project name>_files directory, as shown in the picture above. Inside of this directory is where all the mysterious and automatic stuff happens. For a single ANSYS Mechanical system (Static Structural, Thermal, Modal/Harmonic, etc…) your directory of interest will be in the MECH directory, at the very bottom of the diagram. This directory can easily be opened in the ANSYS Mechanical application by right clicking on Solution in the tree and selecting Open Solver Files Directory.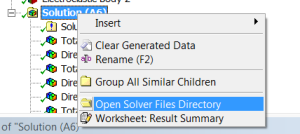 Get to the important MECH directory quickly and easily by right clicking on Solution and selecting the highlighted option.
Inside the MECH directory is where all of the relevant files for the solution process are located. The mesh, loads and material properties are written to a text input file, ds.dat, and there may be several supporting files. The workflow here will be familiar to users of the old ANSYS Mechanical APDL interface (sometimes referred to as ANSYS Classic). This is where files needed for a solution process should be placed if they are not already handled by Workbench.
The actual solve does not happen here, however, it happens in the _ProjectScratch directory, located on the same top level project directory as the wbpj file. All the files in the MECH directory are moved here, the solve takes place and then the files are moved back. Workbench at this point will helpfully delete files that are unnecessary as per Analysis Settings (the MAPDL solver creates many files, see the documentation chapter File Management and Files under the MAPDL Basic Analysis Guide for a full listing). Note that any additional files that you may have manually placed in this directory are both automatically moved to the temporary solve directory and moved back. This also applies to new files created during the solution process, such as path results or images that are created by the /show command. So for a single analysis that needs non-standard support files, you can just drop your files in the MECH directory and they will available to the solver.
What if we need to deal with files that involve more than one analysis system? There are many ways in which two or more analysis systems could interact in a way that Workbench does not yet support. Examples include:
Updating a deformed geometry upstream (in R17 next week, this will be fully supported in Workbench)
Initial stresses or strains calculated in one analysis, written to an initial state file and applied to an upstream analysis through INISTATE
A common data file referenced by several analysis types
Any type of sequential coupled field analysis type
The user_files directory provides us with a common directory that we can use to store intermediate files. This allows us to avoid trying to predict the directory structure within Workbench or manually moving files each time it is solved. From the flowchart at the beginning of this post, this directory can easily be navigated to. It is also easy to find the path to the user files directory, along with other directories of interest, in APDL command snippets due to parameters automatically set in the solve process. See the beginning of the Solver Output file to find the following parameters:
| | |
| --- | --- |
| _WB_PROJECTSCRATCH_DIR | Absolute path to the temporary solution directory (Scr###) |
| _WB_SOLVERFILES_DIR | Absolute path to the MECH directory |
| _WB_USERFILES_DIR | Absolute path to the user_files directory for the project |
We can construct paths using the APDL string or path manipulation commands and copy files between these directories easily. Here is an example of an APDL snippet that copies the result file to the user_files directory:
*dim,fname,STRING,128
fname(1)=strcat(_WB_USERFILES_DIR(1),'file')
/copy,file,rst,,fname(1),rst
For more information on the file operations commands available, see the File Management and Files section under the MAPDL Basic Analysis Guide. For more information on the string manipulation commands, see the very bottom of the Appendix B. GET Function Summary under the ANSYS Parametric Design Language Guide section in the documentation.
An example of the above input file is for a MEMS application. An electrostatic air gap is modeled and we are interested in measuring the capacitance as the gap deforms due to applied voltage. This could be a characterization for a Reduced Order Model (ROM), such as for the TRANS126 element. In Workbench, we can use the ACT MEMS extension set up both the deformed shape calculation and capacitance calculation in a Static Structural and Electric system, respectively. We can use the UPGEOM command to update the initial node positions of the electric analysis to the final deformed positions of the static structural analysis by referencing a result file in the user_files directory, copied there after the solve with the above command snippet. Because of our robust and automated setup, we can easily do a parametric analysis to automatically solve at several voltages:
Please contact Kaan@ozeninc.com with any questions.
---
Tech Tip
What's New in ANSYS CFD R17?

ANSYS has made numerous improvements to Fluent and CFX at the latest Release 17. The goal for ANSYS and Ozen Engineering, as always, is to allow CFD users to make better design decisions earlier in the product development cycle.
Some examples of unseen technology improvements that will reduce time-to-solution include:
Partitioning speed & robustness.
Improved parallel processing performance, with improved efficiency on fewer nodes/cells per core.
Input/output efficiency for large models during solution.
Some new capabilities that users can take advantage of:
Modernized graphical user interface for Fluent.
Live solution post-processing in CFX.
Improved animation capabilities in CFD-Post.
Monte-Carlo radiation as a beta feature in Fluent.
For more details, please call us and ask to speak with an engineer, or visit our R17 Fluids webpage.
Please contact Cowan@ozeninc.com with any questions.
---
Tech Tip
Electromagnetic Compatibility (EMC) is the ability of devices to work without any errors in their intended Electromagnetics (EM) environment and Electromagnetic Interference (EMI) is electromagnetic emissions from the devices that interfere with normal operation of other devices. ANSYS EM and Circuit simulation products provide fast and accurate EMC/EMI predictions— enabling Engineers to understand the EM interactions and system performance in early stage of product development. ANSYS tools needed for EMC/EMI Simulations are SIwave (Board Analysis), HFSS (Full 3D enclosure), and Designer (Realistic clock/timing, and digital signals). Full System EMC/EMI simulation methodology includes:ANSYS HFSS is a valuable tool in antenna design and platform integration that allow engineers to look beyond the antenna design and begin considering how it interacts with the system or platform into which it is integrated. HFSS Technology offers HFSS Finite Element Method (FEM), HFSS Integral-Equation (IE), HFSS Physical Optics (PO), and HFSS Transient. These antenna simulation methods and tools can be used depending upon the kind of problem you want to solve.
Antenna integration is a complex multi-scale and multi-domain problem. The major challenges in antenna integration modeling are accuracy, electrical size and scale, geometric complexity, platform materials, placement and co-site interference, and solution time. The antenna performance/characteristic can be affected after integrating on the platform (Far-Field pattern degraded, input impedance detuned…). Successful Integration of antenna systems on platforms requires that the design engineers overcome these challenge. Here are some tips and tricks to overcome the challenges:
De-feature models obtained from mechanical or electrical CAD tools when possible. (These models typically include geometry details insignificant for electromagnetic analysis)
Removing unnecessary model details reduces mesh density and runtime. (Use good engineering judgment to make certain that removed features are electrically insignificant)
Using ANSYS Electronics High Performance Computing (HPC) to reduce run time.
Using HFSS Hybrid Solution (Integral Equation, Physical Optics) or HFSS integration with SAVANT for large electrical size and scale.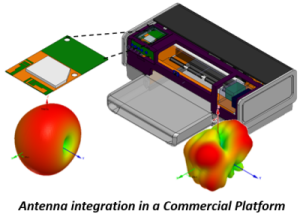 Please contact Mehrnoosh.Khabiri@ozeninc.com with any questions.
---
White Paper
Predicting Electromagnetic Interface and Compatibility
Electromagnetic Interference and Compatibility can not only impact the performance of a device but can delay device certification and time to market. Neither of these outcomes are acceptable to companies in the fast paced, competitive market of today. This whitepaper is an overview of Electromagnetic Interference and Compatibility (EMI/EMC):
---
Lunch & Learn – What is new in R17 Electromagnetics?
February 3, 2016 11:30AM – 1:00PM (lunch provided)
 Upon completion of this event, attendees are eligible to receive a 14-day evaluation license.
---
Lunch & Learn – Introduction to the OzenCloud
February 17, 2016 11:30AM – 1:00PM (lunch provided)
Upon completion of this event, attendees are eligible to receive a 14-day evaluation license.
Join us for this upcoming lunch & learn event featuring the OzenCloud!
---
Lunch & Learn – What is new in ANSYS R17?
February 24, 2016 11:30AM – 1:00PM (lunch provided)
Upon completion of this event, attendees are eligible to receive a 14-day evaluation license.
---
  Upcoming ANSYS Training/Events In January/February

Free Lunch & Learns:
---
OzenCloud
Is your compute environment too small to handle your ANSYS workloads? Are you looking for performing additional ANSYS simulations on more and faster computers on demand, in our secure cloud environment?
OzenCloud is a perfect platform for customers who are concerned about surge capacity and compute resources or have a short term project but do not wish to commit to a license purchase. In addition, OzenCloud provides dramatic performance improvements to FEA and CFD simulations, leveraging advances HPC technologies from the world's leading hardware vendors.
If you need any easy to use, on-demand and scalable simulation environment at affordable prices, contact us today for an OzenCloud trial.
---
Ozen Engineering, Inc.
Newsletter
1210 E. Arques Ave #207
Sunnyvale, CA 94085
(408) 732-4665