Message from your Channel Partner 
It is April already, time to file taxes if you have not already done so! For us, it is also the start of a new quarter along with ANSYS certification. As I may have mentioned this in the past, it is very important for an engineering software company like ANSYS to have quality control for the simulation software products. I have been in this industry for almost 35 years and I have observed that ANSYS has the best quality control among the competition.
What does quality control mean for the end user? It means that we can rely on our FEA & CFD results (provided that boundary conditions are accurate) because ANSYS software tools have been verified and validated. One of the reasons why ANSYS has moved to the #1 position in this industry is the fact that ANSYS has the best quality control. As part of the quality control procedures at ANSYS, the channel partners need to go through a "certification" process with every new release! This certification is done for not only technical but also for sales personnel. So, starting in April through the end of June, we will also be going through "certification" to be able to service our clients, provide them with best support, and give them the most accurate information about ANSYS software products. So, welcome to April, please rest assure that ANSYS is the best engineering simulation software in the market and that we are doing our best to serve you in the most efficient way possible. Please let me know if/how I can be of help with ANSYS software. Have a great April!
By Metin Ozen
---
Message from the Sales Manager
Dramatic Performance Improvements of 
ANSYS R17 Compared to ANSYS R16
Based on recent benchmarks, ANSYS Mechanical R17 scales more than 1000 cores and demonstrates dramatic performance improvements in both Sparse as well as Iterative solvers. Please read the paper for more details: Download Now
Promotional Pricing:
Upgrade Your Legacy Products to New Mechanical Products 
With the release of ANSYS R17, we introduced new generation of Mechanical products to bring you more value and new simulation technology.
The new Mechanical Products are:
Mechanical Enterprise
Mechanical Premium
Mechanical Pro​
The following chart demonstrates the capabilities and technologies embedded in each product with Mechanical Enterprise having an unprecedented value of close to $200K worth of additional embedded products and capabilities.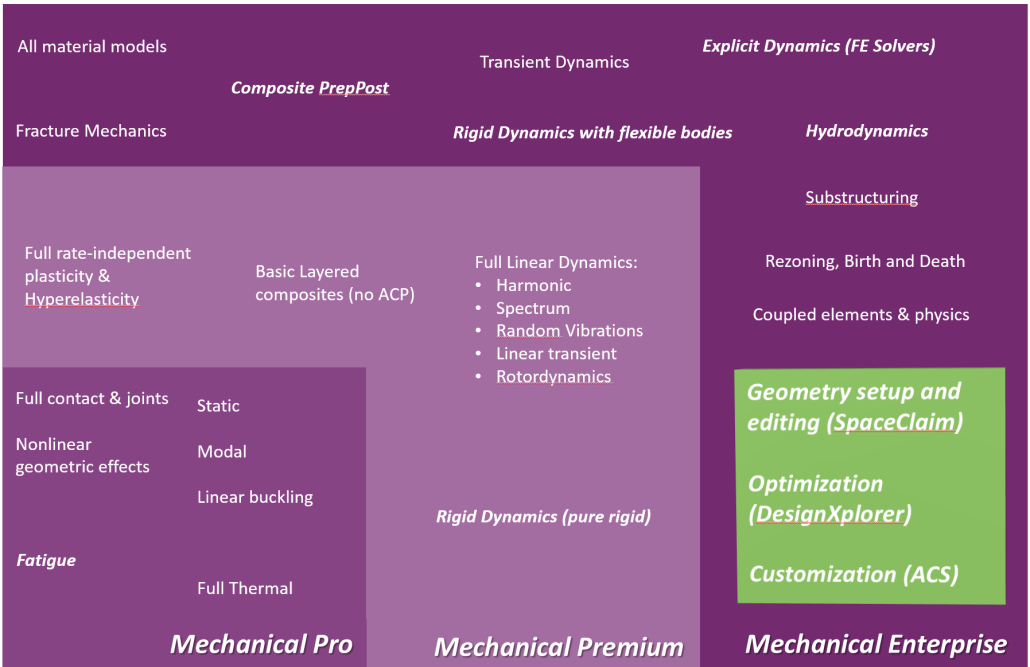 We are pleased to offer existing customers who are current on TECS (Technical Enhancements and Customer Service) with a Current/Legacy product such as ANSYS Structural, NLS, NLT or DesignSpace to upgrade to the new generation Mechanical products at exceptional promotional prices. Promotion is applicable for a single product.
Please contact us to upgrade your legacy products today before the promotion expires!
By Casey Heydari
---
What's New at Ozen Engineering?  
Join Us for Java!
At Ozen Engineering, we love coffee. From a cup of Turkish coffee to a foamy cappuccino, we enjoy it all! In order to brew that perfect cup, we purchased a Jura Impressa C9 One Touch Coffee Center. For those of you that have visited Ozen Engineering for a three-day course, you know that a shot of espresso gives that extra boost to focus and stay alert during those complex simulations. Not a coffee lover? Don't worry. We also have Persian tea for you tea lovers out there.
At Ozen Engineering, we are known for our superior ANSYS software training led by our experienced engineers. We have engineers traveling from all over to attend our vast array of course selections, including training in ANSYS HFSS/ANSYS Mechanical/ANSYS CFX. Please visit http://www.ozeninc.com/ansys-training-events/ for our current training schedule.
The next time you visit us at Ozen Engineering for a training, Lunch & Learn, or meeting, please don't be shy and ask us for a cup of java.

The ANSYS Electronics Desktop environment provides a common user interface, model entry and setup, simulation control, and post processing in a single framework for Electromagnetic (EM) simulation applications. In ANSYS R17, Maxwell and Simplorer are added to ANSYS Electronics Desktop. The new ANSYS Electronics Desktop houses Maxwell, Maxwell Circuit, Simplorer, HFSS, Designer, and Q3D Extractor.
Here are some key features of new ANSYS Electronics Desktop: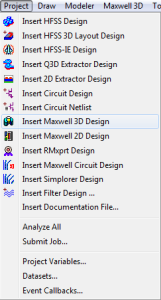 • One desktop application handles multiple design types 'EM configuration' available under Tools> Options > General Options> General> User Interface (It includes Simplorer, Maxwell, Maxwell circuit Editor, RMxprt, Q3D, HFSS, Designer)
• Streamlines coupled workflows between systems/circuits and 3D
• Pre-defined Simplorer configuration preserves standalone look & feel
• Electronics Desktop products link to ANSYS Workbench for full multiphysics simulation and product optimization under real-world physical conditions.
---
Tech Tip
Force Based Submodeling 

Even with today's increased computing power and optimized software, submodeling is a powerful technique to perform analysis on detailed regions of assemblies. Recent versions of ANSYS Mechanical software have easy to use implementation for submodeling, where one can perform cut boundary interpolations all in Workbench environment, without the need of writing good old APDL code.
Submodeling in ANSYS Mechanical (and APDL) is based on interpolation displacements from global level to submodel level at cut boundaries. This approach comes with the assumption that the stiffness of the submodel region does not differ much in stiffness from the global model. This assumption holds most of the time. However, there are cases where one would like to apply structural loads from global model, rather than the displacements. This is especially a requirement when the stiffness of the model is reduced in the modeled sub region. The technique can be also called "Force Based Submodeling". Below is a naïve implementation of force based submodeling for solid-to-solid case.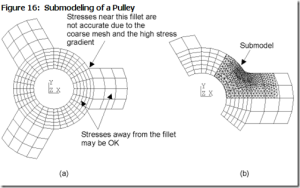 Need: We would like to apply the force being carried by supports in a submodel, rather than performing a displacement based submodel. The design of the support is changed such that it will invalidate global displacement results. Therefore we propose a way to extract reaction forces at cut boundaries rather than displacements in classical submodeling sense.
Algorithm:
Perform global analysis with coarse mesh
Generate a submodel(a.k.a. initial submodel) analysis, with exact same geometry of global analysis with coarse mesh. This will allow one to get reaction forces where cut-boundary displacements are applied
Extract reaction forces on cut-boundary faces

Can extract reaction forces on whole surfaces and apply them as remote forces with deformable boundary option
Can extract reaction forces on each node and apply in final submodel by ensuring same mesh on cut-boundaries between initial submodel and final submodel

Generate a submodel (a.k.a. final submodel) with updated support design
Apply reaction forces calculated from initial submodel
Solve for final submodel and post-process
Example Case#1
I have built a simple model to test the above mentioned concept:

Fig. Boundary conditions (a) Global model (b) Initial submodel
When I compare the stress at fixed support surface I get identical Von Mises stress distribution.

Fig. Von Mises stress at fixed support surface (a) Global model (b) Initial submodel
An APDL code is developed to extract nodal reaction forces from the initial sub model as follows: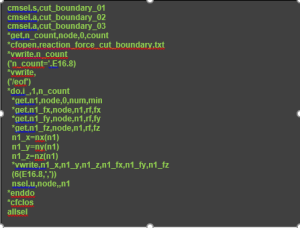 The text file generated by APDL code based on "initial submodel", is then manually copied to solver directory of the "final submodel". This process can be automized by saving the file to "user files" directory instead.
The content of the reaction force text file is then read into "final submodel" by the following APDL code: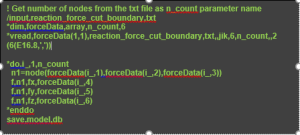 Comparing the stresses and displacements there is perfect match between global, initial and final submodel models.

Fig. Von Mises Stress (a) Global Model (b) Initial submodel (c) Final submodel

Fig. Total displacements (a) Global Model (b) Initial submodel (c) Final submodel
By Can Ozcan
---
Whitepaper
Focus Faster on Mechanical Simulation
"Studies show you can slash time spent on simulation runs by 6X when you upgrade to the latest workstation technology and software." 
---
Upcoming ANSYS Training & Events 
In April & May
---
OzenCloud
Is your compute environment too small to handle your ANSYS workloads? Are you looking for performing additional ANSYS simulations on more and faster computers on demand, in our secure cloud environment?
OzenCloud is a perfect platform for customers who are concerned about surge capacity and compute resources or have a short term project but do not wish to commit to a license purchase. In addition, OzenCloud provides dramatic performance improvements to FEA and CFD simulations, leveraging advances HPC technologies from the world's leading hardware vendors.
If you need any easy to use, on-demand and scalable simulation environment at affordable prices, contact us today for an OzenCloud trial.
---
Ozen Engineering, Inc.
Newsletter
1210 E. Arques Ave #207
Sunnyvale, CA 94085
(408) 732-4665
---