ANSYS offers a comprehensive Multiphysics Design for Electric Machines.  ANSYS' electric machine design flow provides a complete virtual prototyping laboratory for machine design and development. The Electrical Machine Design Methodology includes machine design, finite element analysis, system analysis, optimization, thermal, stress and acoustical analysis. In ANSYS 17.1, a new Multiphysics coupling for Electric Machine Design is added. Automatic link generation from Maxwell-RMxprt to Icepak is a new multiphysics capability which provides:
– Geometry generation
– Mesh control definition
– Boundary and excitation definition
– Creating CFD transient settings
RMxprt solved models can be exported as an Icepak design. To create an Icepak design:
Click RMxprt > Analysis Setup > Create Icepak Design; or right-click on the analysis setup in the Project tree and select Create Icepak Design from the context menu.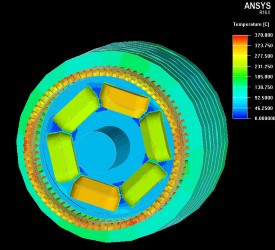 For more information about Electric Machine designs, please visit our website- industry solution section- for Electric Motors.