December 17, 2021




9:00 am - 5:00 pm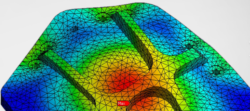 Overview
ANSYS DesignXplorer is a design optimization application that operates under the ANSYS Workbench environment and incorporates both traditional and nontraditional optimization through a goal-driven approach.
Prerequisites
A technical education and/or background in design optimization is recommended but having an engineering degree is not required. This course is designed for clients who have little to no experience with ANSYS DesignXplorer.
Target Audience: Engineers and Designers
Course Topics
Introduction
Response Surface
Optimization
Six Sigma
Best Practices
Teaching Method:. A training certificate is provided to all attendees who complete the course.
Typical Agenda
9:00AM – Class Begins
12- 1:00PM – Lunch Served
5:00PM – Class Ends
Cost: $600/day
https://www.ozeninc.com/wp-content/uploads/2020/03/Ozen-Website-Header-FullWidth.jpg
0
0
ozen
https://www.ozeninc.com/wp-content/uploads/2020/03/Ozen-Website-Header-FullWidth.jpg
ozen
2020-12-27 20:28:35
2021-01-26 14:42:17
Introduction to ANSYS DesignXplorer