We're sorry, but all tickets sales have ended because the event is expired.
October 25, 2018 - October 26, 2018




8:00 am - 4:00 pm

October 3, 2019 - October 4, 2019




8:00 am - 4:00 pm

October 1, 2020 - October 2, 2020




8:00 am - 4:00 pm
Overview
The ANSYS Fluent/CFX FSI course is a two-day advanced course covering modeling approaches for fluid-structure interaction applications using ANSYS Fluent/CFX and ANSYS Mechanical. The course will cover setup, solution and convergence of one-way and two-way FSI simulations, as well as static (1-way) data transfers. Students must have experience running ANSYS Fluent/CFX and some prior experience using ANSYS Mechanical for the training to be effective.
Course Description
The two day advanced training course on Fluid Structure Interaction (FSI) Modeling Using ANSYS Fluent/CFX and ANSYS Mechanical is designed for existing users of ANSYS Fluent/CFX and will cover the following topics:
Overview of FSI in ANSYS Workbench
Moving Mesh
Two-way FSI
Static (1-way) Data Transfers
6-DOF Rigid Body Solver
Immersed Solids
The advanced fluid structure interaction modeling course also has several workshops that the students can work through during class.
Prerequisites
A technical education and background is recommended but an engineering degree is not required.
Completion of the Introduction to ANSYS Fluent/CFX course is required.
Experience with ANSYS Fluent/CFX is strongly recommended.
Experience with ANSYS Mechanical is desirable.
Target Audience: Engineers and Designers
Teaching Method: Lectures and computer practical sessions to validate acquired knowledge. A training certificate is provided to all attendees who complete the course.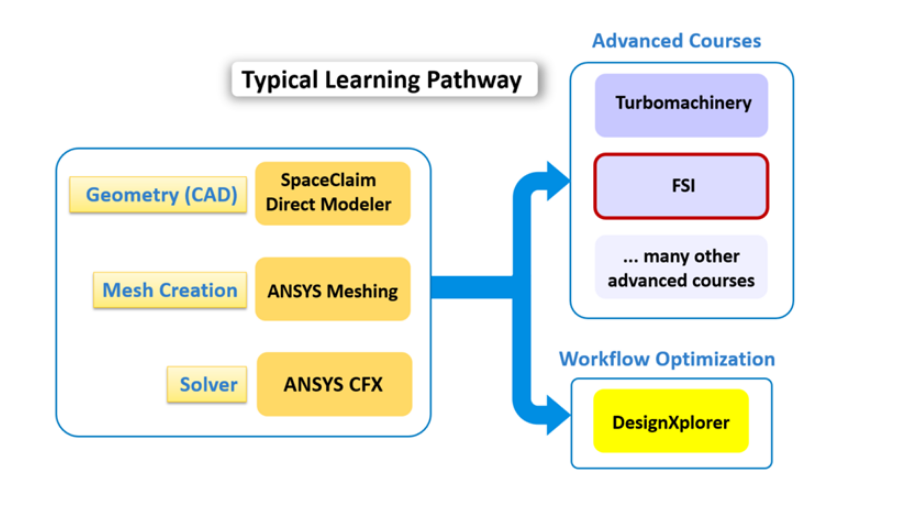 Typical Agenda
9:00AM – Class Begins
12- 1:00PM – Lunch Served
5:00PM – Class Ends
Cost: $600/day
https://www.ozeninc.com/wp-content/uploads/2020/03/Ozen-Website-Header-FullWidth.jpg
0
0
ozen
https://www.ozeninc.com/wp-content/uploads/2020/03/Ozen-Website-Header-FullWidth.jpg
ozen
2014-12-17 13:00:29
2019-12-05 00:31:46
ANSYS Fluent/CFX Fluid Structure Interaction (FSI) with ANSYS Mechanical