November 23, 2020




2:00 pm - 3:00 pm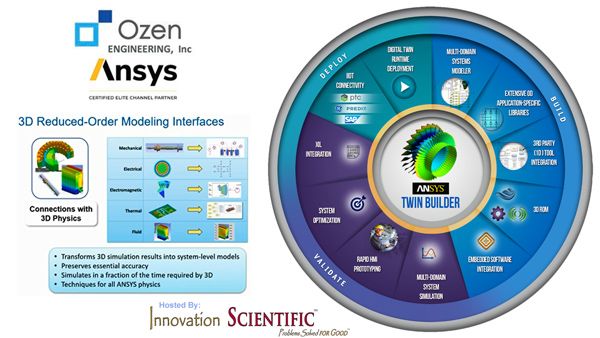 DIGITAL TWIN CENTER OF EXCELLENCE
This introductory webinar covers basic information to build, validate and deploy a digital twin. Five distinct applications of digital twin technology will be presented including return on investment (ROI) considerations.
A digital twin is a physics accurate simulation of a product, system or process that collects live real-time data and allows visualization and insight to actuate controllers to modify and improve performance or to gain insight into more exact maintenance requirements. Sensors relay data — temperature, pressure, flow rate, voltage, loading, etc. — to the digital twin, and the twin evolves in step with the working environment. By using simulation in conjunction with live sensor data, it is a solid step and supported to generating an economic ROI for Industrial Internet of Things (IIoT) or digital transition applications.
Learn how digital twins can analyze performance in real-world operating conditions and help executives and technical professionals make confident predictions about future performance to improve product, operations, productivity, and the risk unplanned downtime. Collected data can be used for insight and to improve next-gen products.
Questions? Contact: 503-723-7392 or digitaltwin@innovationscientific.com
https://www.ozeninc.com/wp-content/uploads/2020/03/Ozen-Website-Header-FullWidth.jpg
0
0
ozen
https://www.ozeninc.com/wp-content/uploads/2020/03/Ozen-Website-Header-FullWidth.jpg
ozen
2020-11-17 12:49:48
2020-11-17 16:45:31
Build, Validate & Deploy a Digital Twin of Your Product, Process, or System Now