Ansys Platform Solutions
In an expanding range of simulation examples, engineers and designers must be able to accurately predict how complex products will behave in real-world environments where multiple types of coupled physics interact. Multiphysics simulation software from Ansys allows users to create virtual prototypes of their designs operating under real-world multiphysics conditions. This industry leading software enables engineers and scientists to simulate the interaction between structural mechanics, heat transfer, fluid flow and electromagnetics all within a single, unified engineering simulation environment.
» Multiphysics Solutions Brochure (PDF)
» Mechanical Suite Brochure (PDF)
» What's New in the Latest Version of Ansys
» Ansys Capabilities Chart (PDF)
 .
Ansys Multiphysics Features
Ansys Multiphysics Features
Industry-leading software from Ansys enables engineers and scientists to simulate the interaction among structural mechanics, heat transfer, fluid flow and electromagnetics all within a unified simulation platform. Using Ansys, engineers gain the flexibility they need to perform multiphysics simulations at the level of fidelity and physics coupling they need to solve their problems and design their products.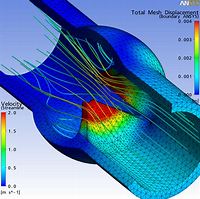 Select an option to learn more about each feature.
Proven Solver Technology
Proven Solver Technology
Multiphysics technology from Ansys is built on proven solver technology validated by many years of analyses by the world's leading corporations and universities. Technical depth and breadth in all physics — structural mechanics, heat transfer, fluid flow and electromagnetics, even down to the chip level — is essential to understanding the complex interactions among different physics disciplines. This industry-leading solver technology for all physics disciplines, in conjunction with the engineered scalability of the Ansys product portfolio, enables users to solve challenging, real-world multiphysics problems.
The images above display conjugate heat transfer solution and subsequent thermal-stress analysis of computer graphics card. Fluid streamlines and solid temperatures (left) and thermal stresses (right) are shown for the coupled simulation.
Unified Simulation Platform
Unified Simulation Platform
The Ansys Workbench platform is a powerful multi-domain simulation environment that harnesses the core physics from Ansys, enables physics interoperability and provides common tools for interfacing with CAD, repairing geometry, creating meshes and post-processing results. An innovative project schematic view ties together the entire simulation process, guiding the user through complex multiphysics analyses with drag-and-drop simplicity.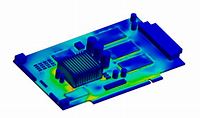 The Ansys Workbench platform is a powerful multiphysics simulation environment. This project schematic shows the multiphysics workflow for a coupled electric conduction, heat transfer and subsequent thermal-stress analysis.
Powerful HPC Solver Capabilities
Powerful HPC Solver Capabilities
HPC is a strategic enabler for users who want to increase the value they derive from engineering simulation. It enables high-fidelity simulation (bigger, more detailed, more accurate, more complete systems-level simulation), which is critical for organizations that want to leverage simulation to support product innovation. As problem sizes and complexities increase with systems and multiphysics focus, best-in-class solver technologies from all physics disciplines must work together to solve the complete simulation.
Ansys HPC solutions enable you to increase the number of design variations you can compute in a given period, leading to better, more optimized products — which you can launch in the marketplace in a shorter time frame.
Design Exploration and Optimization Continuing core solver improvements across the Ansys suite remove scaling bottlenecks, pushing performance out to higher core counts and enabling efficient processing of numerically large, incredibly detailed simulations. Examples include architecture-aware partitioning (top), domain decomposition (middle) and distributed memory parallel processing (bottom)
Design Exploration and Optimization
Good design starts with identifying the relationship between performance and design variables. Ansys design exploration tools enable engineers to perform design of experiments (DOE) analyses, investigate response surfaces and analyze input constraints in pursuit of optimal design candidates.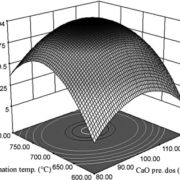 Response surfaces: relationships between design parameters and design performance.
Simulation Process and Data Management
Simulation Process and Data Management
The solution to managing complex processes and the resulting CAE data explosion is an end-to-end support system designed with a special focus on scale, scope and purpose. Ansys Engineering Knowledge Manager (EKM) supports the seamless sharing of product specifications, performance metrics and other critical engineering insights — so that the entire team, even when dispersed across multiple time zones and geographies, is equipped with the same reliable, real-time information at both component and system levels.
Native CAD Import and Robust MeshingA scalable solution, EKM supports single users and shared configurations with a flexible and simple licensing model. It allows for connections to local or remote repositories, encouraging CAE collaboration across dispersed teams.
Native CAD Import and Robust Meshing
Native, bidirectional CAD connectivity and automatic meshing with advanced options are provided through the Ansys Workbench platform. This environment connects with major CAD systems and allows import from most neutral geometry formats.
Ansys Workbench also provides a wide range of highly robust and automated physics-based meshing tools, including tetrahedral, pure hexahedral, mixed hex/tet/pyramid, inflation layers and high-quality surface meshes. Users have the ability to control many advanced meshing options such as body, surface or edge sizing controls, sphere of influence, inflation layer meshing, mesh defeaturing tolerances, and much more.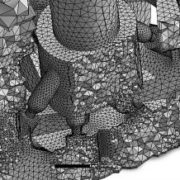 Seamless Data TransferAutomated CFD meshing includes inflation layers for complicated geometries, such as this drill bit model.
Seamless Data Transfer
Best practices for meshing depends on the physics being examined.  Good meshes for structural analysis are not the same as for CFD.  At the same time, the mechanical engineers may not be knowledgeable in CFD, or electrical engineers may not be versed in structural analysis. Data can be simply shared among engineers in the form of text files defining point clouds but transferring this data to the mesh for another physics is a painful process without the right tools. The Ansys Workbench platform allows a seamless data transfer from one physics area to another, and it automates the mapping between dissimilar meshes. Workbench easily imports data from external sources, such as point clouds, and transfers them onto your current structure. You can modify scaling, units and orientations to match the point cloud data to your model. Visual quality controls check the accuracy of the transferred data.
Ansys Multiphysics Examples
Here we have a collection of examples for which Ansys Multiphysics solutions have been used in several industries. Choose any of the examples to view a short simulation video clip.
Tank Sloshing FSI
Transient fluid structure interaction (FSI) solution including free surface flow, large deformation and isotropic hardening plasticity.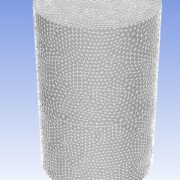 Piezoelectric Fan
Piezoelectric bimorph driven with an AC voltage generate the fan blade motion, transient simulation includes large deflection.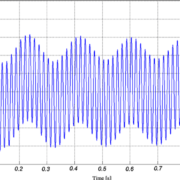 Silicon Ring Gyroscope
Harmonic response of a silicon ring gyroscope including the effects of thermoelastic damping.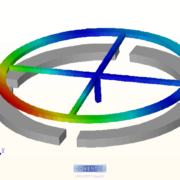 Graphics Card
Thermal stress analysis of a computer graphics card.
Folded Dielectric Elastomer Actuator
Maxwell electrostatic pressure generates linear actuation of a folder dielectric elastomer actuator.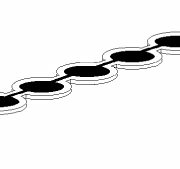 Thermoelectric Cooler
Thermoelectric analysis of a Peltier or thermoelectric cooler, model includes Joule heating, Peltier and Seebeck effects.
Human Head
Temperature profile in the human head induced by high frequency electromagnetic fields generated from a cell phone antenna.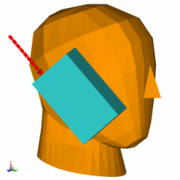 Blade Fuse
Joule heating analysis of an automotive blade fuse, current density in the fuse element shown.
MEMS Micromirror
Positioning of a MEMS digital micromirror using electrostatic actuation solved with sequential coupling.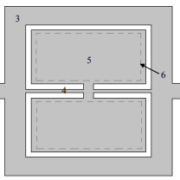 Tweeter Dome
Acoustic-structural coup[ling of a loud speaker tweeter dome, acoustic pressure shown.
Pressure Transducer
Diaphram deflection creates a differential voltage in a Wheatstone bridge circuit of piezoresistors.

Thermoelectric Actuator
Thermal-electric-structural coupling is used to actuate the device.
Solenoid Motion
Electromagnetic-structural coupling is used to solve the transient motion of a solenoid actuator.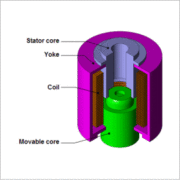 Tunable Filter
Harmonic response of tunable filter, model solved with electromechanical transducer elements and circuit coupling.
Aortic Aneurysm
Two-way fluid structure interaction simulation of Non-Newtonian blood flow in an aortic aneurysm.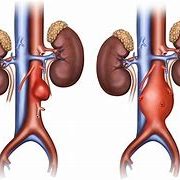 Solenoid Heating
Resistive heating of solenoid actuator, temperature distribution shown.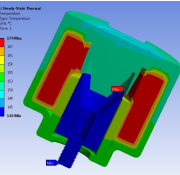 Gear Flow Sensor
Fluid structure interaction solution of an IV flow rate sensor, rate of gear rotation measures flow rate.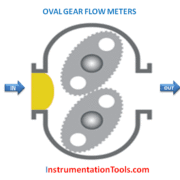 .
Technical Seminar/Hands-On Events
Ozen Engineering Inc. holds Ansys Technical Seminars and Hands-On Training every month. Classes are taught by Ozen Engineering experts who have extensive Ansys application experience as well as FEA and CFD computer-aided engineering expertise. To see our events schedule or register for an upcoming event, please go to our Ansys Training & Events page.