Ansys Simulation Software and Consulting Services
Electrical and Electronics Design
Simulation Software
Ozen Engineering is the Ansys Certified Elite Channel Partner in California and Nevada.  We provide:
Software Sales
Technical Support & Training
Engineering Consulting Services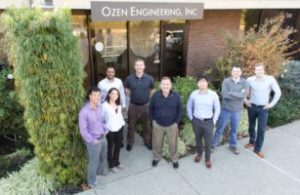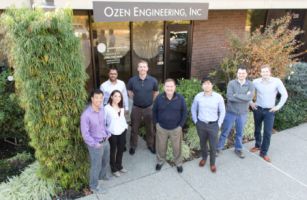 Consulting Services
With decades of experience, Ozen Engineering prides ourselves on providing accurate solutions, deep industrial experience, and dependable delivery of simulation results that solve our customers' challenges.  We provide:
Finite Element Analysis (FEA)
Computational Fluid Dynamics (CFD)
Electromagnetic Simulation (EM)
Electrical and Electronic Applications
Electrical and Electronic Simulation Software
A 3D EM field solver to design high-frequency and high-speed electronic components. Its FEM, IE, asymptotic and hybrid solvers address RF, microwave, IC, PCB and EMI problems.
An EM field solver for electric machines, transformers, actuators and electromechanical devices. It solves static, frequency-domain, and time-varying electric fields.
A specialized tool for power integrity, signal integrity and EMI analysis of IC packages and PCBs. Solves power delivery systems and high-speed channels in electronic devices.
A CFD solver for electronics thermal management. It predicts airflow, temperature and heat transfer in IC packages, PCBs, electronic assemblies/enclosures, power electronics.
Sherlock
Electronics design software that provides fast and accurate life predictions for electronic hardware at the component, board and system levels in early design stages.
Motor-CAD
A template-based design tool for fast multiphysics analyses of electric motors across the full torque-speed operating range to optimize their performance, efficiency and size.
EMA3D-Cable
Platform-level electromagnetic cable modeling and simulation tool that delivers a design-to-validation workflow including (EMI)/ (EMC) certification support.
Electronic Enterprise
Premier software package for the engineer solving problems across the electronics design spectrum. All Ansys electronics technologies are included in this single user package.
Electronics Pro 2D
Electronics Pro 2D is ideal for 2D low frequency electromagnetic analysis, 2D parameter extraction, RF system analysis for the prediction of radio frequency interference and circuit simulation with advanced RF functionality.
Q3D Extractor
A 2D and 3D EM field simulator to extract RLCG parameters from an interconnect. It's a parasitic extraction tool to design electronic packaging and power electronic devices.                                                   
Ozen Engineering Inc. - Company Video